How to Restore an Antique Porcelain Stove
Porcelain stoves served American kitchens for generations. But because of many long, hard years of service, most of them need to be restored to bring them back to their original glory. You can do most of the cleaning, rust removal and replacement of parts in your own workshop. But the main issue is the porcelain. Like a chipped tooth, the porcelain enamel on an antique stove has to be refilled and polished. If the porcelain damage is severe, you will have to take parts off and sent them out to be professionally fired in a kiln.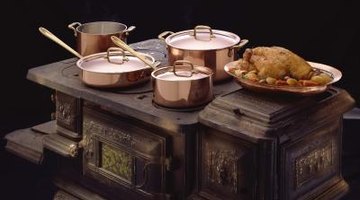 Step 1
Vacuum the stove, and then clean it thoroughly with soap and water and the sea sponge. Dry with a soft cloth. Remove the stove racks and the warming oven insert. Scrub the racks and the warming oven insert thoroughly with oven cleaner, being careful not to damage the metal finishes. Wash and rinse these parts and set aside.
Step 2
Remove any damaged metal liners or broken grates and have them repaired by a metal shop or replace them with reproduction parts.
Step 3
Remove small porcelain parts, such as shelves, knobs or trim. Buff and polish them with stove polish and set them to the side. If they are damaged severely, find replacements at an antique store or antique architectural salvage yard.
Step 4
Put small parts and screws in plastic bags and meticulously label them as you are taking parts off the stove so you will know where they go when reassembling the stove.
Step 5
Remove badly damaged enamel panels that need to be re-enameled, such as the stove backslash, oven doors and stove top. Remove the stove dial thermostat dial on the oven door and set aside. Send parts out to a professional stove enameler to be sandblasted, re-powdered with enamel and baked in kilns to restore original finish. Do not do major porcelain re-enameling yourself. The only way these parts will look original again is if they are fired in a kiln.
Step 6
Patch small cracks and dents with the porcelain enamel repair patch. Use the rust remover to clean and prepare the surface first. Then apply the white porcelain liquid enamel patch. The patch bottle will have a brush built into the cap that you can use to apply the material. Paint a thin layer, and allow it to dry. Repeat this process with other layers until the crack is filled. When a crack is completely filled, sand and buff the area to match to the surface sheen on the rest of the stove.
Step 7
Reattach the stove panels and parts that have come back from the enameler. Put back any of the parts you removed and cleaned earlier.
Step 8
Apply a coat of the enamel stove polish to the outside surface and polish to protect the finish. Re-polish periodically to protect the finish from wear.
References
Resources
Tips
Some antique porcelain stoves have been converted to gas. Be sure you have the stove checked by a professional before putting it into operation.
Make sure you purchase a porcelain enamel patch that is formulated for repairing stoves.
Warnings
Follow all manufacturer's warnings on products used for rust removal, stove cleaning, enameling and polishing. Wear gloves, goggles and a dust mask while working with these products.
Writer Bio
Robert Gray has been writing full time since 1995. His first photography book took seven years to research and publish. He specializes in writing on photography and the arts. He's written for Photography Magazine, Large Format Camera Magazine and many online art and photography websites and blogs.
Photo Credits
Jupiterimages/Comstock/Getty Images
More Articles