How to Refinish Stove Burners
Stove burners take a lot of abuse, from searing hot temperatures to having both solid and liquid food items spilled on them. Also, homeowners who acquire an antique stove often find that time and the elements have had an ill effect on the burners. The result is that stove burners tend to lose their finish, and are sometimes prone to pitting and corrosion. Refinishing such burners can quickly restore a stove to a spic-and-span appearance.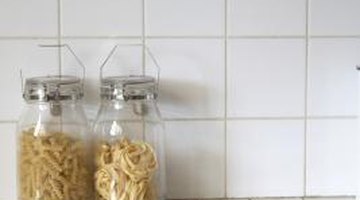 Step 1
Soak the burners in soapy water with an added tsp. of ammonia for half an hour. Then remove the burners and scrub off encrusted grime.
Step 2
Remove rust by scrubbing such rusty patches with a wire scouring pad. Rinse off the rusty scum and dry with a rag.
Step 3
Remove pitting in the iron surface by sanding the corroded area with a power hand sander. Also, remove existing enamel on the burner to achieve a uniform appearance. Use a rough-grit sandpaper to remove the pitting and enamel, and then a medium-grit sandpaper to restore the iron surface of the burners to a smooth appearance.
Step 4
Apply two to three coats of high-temperature stove paint to the iron burners. Allow each coat of paint to dry for several hours or as directed by the manufacturer before applying a new coat.