How to Use an Oil Warmer
Decorative, fragrant oil warmers impart a fresh scent throughout your home. Tealight candles are the primary heat source for traditional oil warmers, and they warm fragrant, essential oils to create an ambient home atmosphere.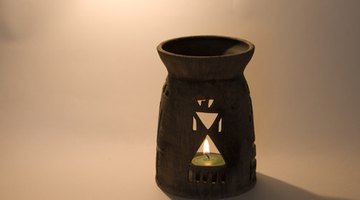 Oil warmers are available in a variety of colors and designs, and they are pleasant additions to a living room or bedroom, adding a subtle accent to home decor and diffusing a pleasant aroma in your home. Follow standard safety precautions to prevent injury.
Things You Will Need
Tealight candle
Household wooden matches
Tip
Essential oils are volatile. To increase the shelf life of the oils and to prevent evaporation, tightly secure the cap and store the oil in a cupboard. Burn an unscented tealight candle in your oil warmer to keep the oil's scent pure. Experiment with different scented oils to create new scents. Clean the oil warmer after each use.
Warning
Avoid fire hazards by following the oil manufacturer's instructions. Keep the oil warmer out of reach of small children and pets. Do not leave the oil warmer unattended. Immediately extinguish the candle if the oil begins to smoke. Extinguish the candle before refilling the oil reservoir. Keep the oil warmer away from combustible products.
Place the oil warmer and tealight candle on a flat, clutter-free surface. Remove the oil dish, and set it aside.

Refer to the fragrant or essential oil's instructions, and add the appropriate amount of oil to the dish.

Insert the tealight candle into the bottom portion of the oil warmer. Create a complex, layered aroma by selecting a complementary scented candle. For example, a lemon-scented candle would complement lavender oil.

Light the candle with a wooden match.

Replace the oil dish on top of the oil warmer. The small flame warms the bottom of the oil reservoir, and the oil begins to simmer, instantaneously diffusing the scent throughout the room.
Resources
Writer Bio
Elizabeth Gresham has been a freelance writer since 2009. Her work appears on several Web sites, including eHow and Break Media. Gresham is studying for a Bachelor of Arts in Spanish at the University of Memphis.
Photo Credits
candle image by Andrey Starostin from Fotolia.com
candle image by Andrey Starostin from Fotolia.com
amber bottle image by Allyson Ricketts from Fotolia.com
Lamp for aromatherapy surrounded by violet petals image by Dmitry Rukhlenko from Fotolia.com
More Articles