How to Install a Quarter Round Ceramic Tile Trim
Quarter round tile trim is most often thin, narrow and delicate in appearance. Installing it is like adding the icing to a cake. It's the finishing touch that pulls the design elements of a tile installation all together. The small details like quarter round make a project sing.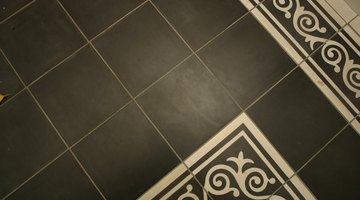 This particular ceramic trim offers a beautiful completion to any tile installation.
Lay the field tile for the installation. Field tile are the tiles that fill the large expanses of the tile installation.

Trim the edges of the the installation with the quarter round ceramic tile trim. Pick up each piece trim one at a time and apply, mortar or mastic to the back of it with a trowel or small spatula. Don't skimp on the adhesive.

Press the quarter round in place. Wiggle it slightly back and forth to ensure good adhesion to the bed of the installation.

Stand back from the installation periodically and check that the quarter round trim is reading straight. If its not, readjust individual pieces.

Allow the mortar or mastic to set up before applying grout.
Tip
The mortar might ooze out around the edges when pressed into place. Be sure to clean excess mortar away so grout can be worked in all around the trim pieces..
Warning
Quarter round trim tile can be fragile. Be careful not to accidentally snap it when setting it.
Writer Bio
B. Ellen von Oostenburg became a full-time writer a decade ago. She has written features for local and state newspapers, as well as magazines, including Milwaukee Magazine, Wisconsin Trails and German Magazine. A graduate of the University of Wisconsin - Madison, von Oostenburg holds a Bachelor of Science Degree in fine art.
Photo Credits
Photos.com/Photos.com/Getty Images
Photos.com/Photos.com/Getty Images
More Articles