Ideas for Replacing Chair Seats
Replacing a chair seat is one way of recycling that saves money. When a seat wears out on a chair, the first thought is often to discard the piece. Instead, think outside the box and create a new seat to give the chair new life. Different chairs require different types of seats.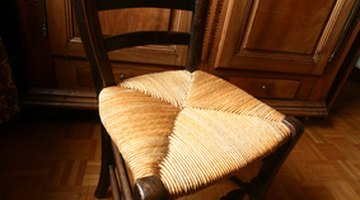 Select the best option for the chair and get creative.
Easy Seat
For a favorite comfortable chair, replacing the seat can be as simple as making a cushion. Often, the seat of our favorite chair wears out the fastest. Continual use places additional wear and tear on the piece causing premature aging, wear and tear. Instead of going in search of a new comfortable place to relax, create a new seat with foam and material. Commercial foam is available at most home improvement outlets. Measure the old cushion from the chair to determine the size of the new foam needed. Be sure the thickness is comparable and will not leave the seat too high or low. Select a durable material or fabric designed for upholstery use. Choose to match the fabric to the original or step out of the box and create a contrasting seat. Be prepared to use extra heavy duty or industrial thread to sew the material around the sponge.
Twine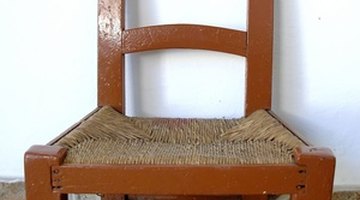 Dining chairs or other narrow chairs with box frames for seats can pose their own issues when seat replacement becomes necessary. The open area created when the original seat becomes defunct cannot be filled with a simple cushion. For the decorator who appreciates rustic, farm house or old American style, creating a new seat from twine is an option. Wrapped around the outer boundaries of the box frame, twine offers a durable replacement seat. The seat can be woven by wrapping and alternating twine from front to back and side to side or in a basket weave. Creating the basket weave is a slower technique, but offers additional durability. Always push each wrap of the twine tightly against the previous line, leaving little or no space between.
Wrap Cushion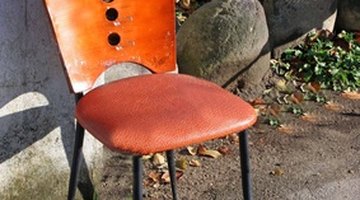 When the seats from solid chairs, such as those created for dining tables, wear out, replacement can be direct and simple with a permanent pillow top. A thin piece of foam or batting typically used for quilting and a durable cut of fabric are all that are needed. Lay the foam on the bare chair seat and wrap the material completely around the seat to be sewn underneath. This simple project can add color or design to a room while fulfilling the need to replace a seat.
References
Writer Bio
Sidney Johns began her writing career in 1993 after moving to Florida. The former teacher and surgical technician worked in the home improvement industry prior to earning a Bachelor of Science in education from Indiana University. While on hiatus in 2004, Johns studied holistic healing and organic growth and gardening.
Photo Credits
chair image by jeancliclac from Fotolia.com
chair image by jeancliclac from Fotolia.com
chair image by inacio pires from Fotolia.com
chair image by Gina Smith from Fotolia.com
More Articles