Ideas for Decorating With Tulle & Lights
Decorating for a big event such as a wedding, baby shower or other important party can be made simpler–and less expensive–by using tulle with various lighting options. Tulle, a thin and lightweight combination of fibers that includes cotton and silk, creates a romantic feeling.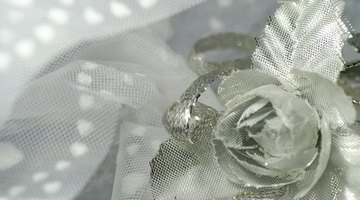 When combined with twinkling lights or candles, the result can be an ethereal atmosphere.
Weddings
Tulle is most often used at weddings. This gossamer fabric may be found in the bride's veil or other aspects of the wedding attire. Tulle also can be draped or tied into bows to decorate pews, tables and other areas.
For a stand-out wedding tulle decoration, combine tulle with dim or twinkling lights in low-light areas, such as the corners of the church or reception hall. Wrap strings of tiny white lights and lengths of tulle around poles, columns or your wedding arch to create a romantic ambiance. You can wrap the tulle on top of the lights or below, depending on your design; either way the lights will show through the fabric, creating a unique lighting pattern on the floors and walls.
Depending on the set up of your reception hall and the types of other lighting available, you might even adorn guest tables or chairs with light and tulle displays.
Tulle and Candles
While twinkle lights or dim bulbs are a traditional way to combine tulle with lights, accenting your décor with tulle and candles can also provide a beautiful decoration. Tie small tulle ribbons or bows to the base of candlesticks during a romantic dinner or holiday celebration to draw more attention to the flickering light and soften the atmosphere.
You also can hang tulle in front of candles, just be careful not to hang it too close to the flame, as the fabric is flammable. The flickering candlelight will create sparkling, dancing spots on the walls and floors, adding a feeling of movement or mystery to your décor.
Colorful Tulle
Though white tulle most often is used (especially for weddings), the fabric comes in a full spectrum of colors, and changing the color palette can add a new dimension to your decorations. Choose the color of tulle by the occasion: consider burgundy or red and hunter green tulle decorations for Christmas or customize your tulle decorations to the favorite colors of the honored guest. Weddings don't have to be white–you can use pale pink, lavender or whatever colors the bridesmaids are wearing.
Tulle also comes in glitter and glimmer options, which can take the combination of tulle and light to a whole new level. Many colors are available with gold or silver glitter or glimmer accents. Hang colorful tulle in combination with twinkle lights or candlelight to mimic the feeling of a crystal chandelier or disco ball.
References
Writer Bio
Samantha Volz has been involved in journalistic and informative writing for over eight years. She holds a bachelor's degree in English literature from Lycoming College, Williamsport, Pennsylvania, with a minor in European history. In college she was editor-in-chief of the student newspaper and completed a professional internship with the "Williamsport Sun-Gazette," serving as a full-time reporter. She resides in Horsham, Pennsylvania.
Photo Credits
fleurs et tulle image by Magalice from Fotolia.com
fleurs et tulle image by Magalice from Fotolia.com
More Articles