How to Make Your Own Sheer Mosquito Netting Canopy
Sleeping in an environment where you might come in contact with mosquitoes or other bugs can be harmful to your health. Mosquitoes can carry harmful diseases such as the West Nile virus. A mosquito net is very helpful to protect yourself while you sleep and reduce your exposure to harmful bugs.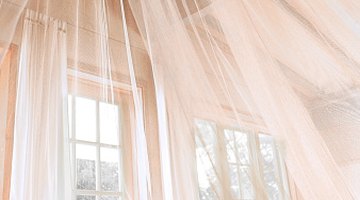 Use cotton sheeting and mosquito tulle to make a hanging mosquito net. Once the net is sewn, install hooks into the ceiling above your bed to hang the net.
Things You Will Need
Measuring tape
Scissors
Cotton sheeting
White thread
Sewing machine
Mosquito netting tulle
Measure the mattress of your bed to determine how large you will need to make the mosquito netting. Add 3 to 4 inches to each side of the measurements to account for shrinkage at the top of the netting.

Trim the selvages off the cotton fabric and cut them into smaller strips. Use the selvages to form about 14 loops, each about 2 inches. The loops will later be attached to the top of the net to hold the mosquito tulle in place.

Cut the cotton and sew it until it forms one sheet. Use the measurements you took in Step 1 to make the sheet the appropriate size. Pin one of the loops in each of the four corners and then pin the other loops so they are spaced out evenly on all sides of the cotton sheet.

Cut strips of cotton that are 6 inches wide. Cut enough strips to go around the perimeter of the cotton sheet plus 3 more inches. Sew the strips together to form one long piece.

Pin the long strip all the way around the large cotton piece and sew all the way around. The loops should stick up through the seam so they are accessible from above the seam. When you reach the loops, double over with your sewing machine to make sure they are secured in place. You should now have a cap for your mosquito net, with loops at the top to hang the net from the ceiling.

Select an opening for the mosquito netting and pin it in place on the wrong side of the cotton cap piece. Pin the netting along the perimeter of the cap and sew the netting in place. When you get all the way back to the start, cut off the excess netting and leave a gap to serve as the door.

Cut a 1-inch strip of fabric and sew it along the bottom edge of the netting to finish it off. Leave a space so that the netting can open.
References
Writer Bio
Elyse James began writing professionally in 2006 after deciding to pursue a career in journalism. She has written for "The Algonquin Times" as a general assignment reporter and published blogs and articles on Webcitybeat. James holds a Bachelor of Journalism from the University of Ottawa.
Photo Credits
Thinkstock/Comstock/Getty Images
Thinkstock/Comstock/Getty Images
More Articles