Alternative Mattress Ideas
Traditional innerspring mattresses are common household furniture. Most households have one, but many people take for theirs for granted. Though they are common, innerspring mattresses are not always ideal for everyone.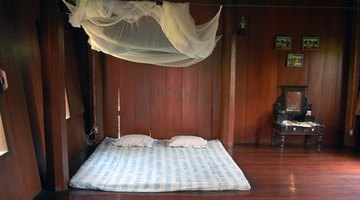 Those with medical conditions such as back problems and trouble sleeping, and those with simple space concerns should consider retiring their old innerspring mattress in favor of something less conventional. There are several stylish, comfortable mattress alternatives.
Hammock
Toss out the mattress and box spring in favor of a hammock. While most people consider hammocks to be outdoor furniture, hanging a hammock in the bedroom can be as fun as it is functional. Hammocks are cozy, but they are also durable and portable. Hang an indoor hammock from support studs or on a hammock stand. Look for hammocks in a wide variety of sizes, materials and colors. Toss blankets and pillows onto the hammock to enjoy a good night's sleep.
Japanese Platform Bed
The Japanese platform bed sits low to the floor and is comprised of a tatami mat or platform, shiki futon pad and a kakebuton comforter. These simple elements make up the Japanese bedding system renowned for its health benefits and treatment of back pain, posture and circulation. This bed is also called a Montessori floor bed by those versed in traditional Montessori educational techniques. Add a soba gara makura buckwheat hull pillow to complete the experience.
Air Mattresses
While most people consider air mattresses a novelty, a well-constructed air mattresses is a durable bedding option available in both inflatable beds and permanent models. Many companies make sheets and bedding for air mattresses and air mattresses are available in sizes from twin to king. When looking at the air mattress as an alternative mattress, consider investing in a pillow-top air mattress for additional comfort. Air mattresses can be cold, so put blankets between the sleeper and the mattress.
The Floor
Though most people will not even consider the floor a viable sleep option, the benefits of sleeping on the floor are not to be discounted. As a solid, sturdy surface, the floor is good for the back and for the body's circulation. Floor sleeping saves space in the bedroom, is less costly than buying a mattress and box spring, and can be just as comfortable as sleeping in a traditional bed. Use pillows, cover the floor with sheets, blankets or a comforter, and stack on the extra blankets during the colder months.
References
Writer Bio
Kristyn Hammond has been teaching freshman college composition at the university level since 2010. She has experience teaching developmental writing, freshman composition, and freshman composition and research. She currently resides in Central Texas where she works for a small university in the Texas A&M system of schools.
Photo Credits
bedroom image by Adrian Hillman from Fotolia.com
bedroom image by Adrian Hillman from Fotolia.com
More Articles