How to Paint Indoor and Outdoor Carpet
While the indoor/outdoor carpet options frequently found in hardware stores are durable and inexpensive, they are often plain-looking and don't offer many decorating or design options. However, you it is possible to improve the appearance of indoor/outdoor carpets with paint.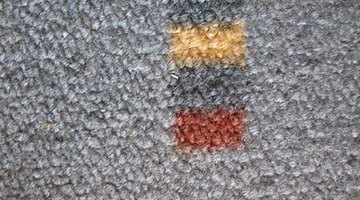 Things You Will Need
Plastic sheets or newspaper
Masking tape
Paint roller and pan
Outdoor paint
Place newspaper or plastic around the perimeter of the carpet to protect the surrounding floor.

Lay down masking tape on the carpet to mark out the design that you want.

Paint the carpet using a paint roller that can fit in between whatever tape lines you've laid down. Start in the center of the carpet and work your way to the outside. Use a paint that is designed for outdoor applications, as it will be more durable. There are cloth paints available at craft stores as well.

Allow the paint to dry and then lift off the masking tape.
References
Writer Bio
Michael Davidson started writing screenplays in 2003 and has had a screenplay professionally produced. He has also studied martial arts since 1990 and has worked as a licensed security specialist. Davidson has written articles for various websites. He is a graduate of Michigan State University and holds a Bachelor of Arts in advertising.
Photo Credits
Background carpet image by fotolia © 2happy from Fotolia.com
Background carpet image by fotolia © 2happy from Fotolia.com
More Articles