How to Get Melted Candles Out of a Glass Holder
Candles that have melted all over your glass candle holders can be a real pain. You can't clean them when they first melt, or you will burn your hands. Invariably, by the time you have a chance to clean them off, the wax will have melted into tiny nooks and crevices.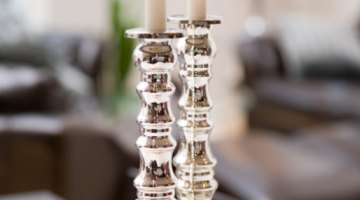 You can get the candle wax off easily using just a few simple steps.
Freezing
Place the candle holder in the freezer once the wax has cooled completely.

Leave it in the freezer for at least one hour.

Take the candle holder out of the freezer and pop the candle out with your fingers.
Water
Fill a bowl with warm water and set it on the counter.

Fully submerge the candle holder in the water.

Take the candle holder out and take out the candle. The warm water softens the wax enough for it to come right out.
Tip
Before putting a new candle in the holder, place a few drops of water in the candle holder. This will keep the new candle from sticking.
References
Writer Bio
Rebekah Martin is a freelance writer and tutor. Her work has appeared in various online publications. She holds a Bachelor of Arts in journalism from Mississippi College. Martin teaches her young children at home and also teaches Sunday School to preschoolers.
Photo Credits
Jupiterimages/Photos.com/Getty Images
Jupiterimages/Photos.com/Getty Images
More Articles