How to Restore an Old Claw-Foot Bathtub
A claw-foot bathtub adds antique charm to a home – but can be very expensive. An inexpensive alternative is to buy an old painted one and restore it yourself. Rusty, unrestored tubs can be found in antique stores or at estate sales.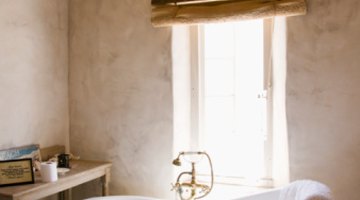 Although you can get claw-foot tubs professionally restored, doing it yourself can save you hundreds of dollars. If restored properly, your tub's surface could last 15 to 20 years. Both painted and porcelain claw-foot tubs where produced; a porcelain tub requires liquid porcelain to refinish, something best left to professionals.
Prepare the area you will be working in and yourself to safely restore the bathtub. Set up an exhaust fan to blow fumes to the outside and wear rubber gloves and safety goggles. Work in the garage or someplace with good ventilation.

Use the sandpaper and scrub down the surface of the tub, removing any buildup of old soap or rust. Remove as much old paint with the sandpaper as you can.

Apply an alkaline emulsifier to strip any remaining paint on the tub. When finished, scrub the tub with an acid-based, citrus cleanser to stop the emulsifier. Allow the citrus cleaner to sit on the tub for five minutes. Wash the tub clean with water and allow it to dry before continuing.

Use filler putty to patch up damaged areas near the drain or around the tub. Allow about 30 minutes for this to dry. Sand down the putty when dry then wipe out the dust.

Apply the bonding agent to the tub. Spread 2 to 3 oz. on a paper towel and apply it to the surfaces you plan to paint. Give the bonding agent five minutes to dry.

Paint your tub with EP-acrylic paint, an acrylic polymer coating that produces a tough, lost-lasting finish. You can use a sprayer to paintbrush to apply it. Apply a base coat, allow it to dry, then add a top coat. It will take up to two days to fully dry. Use ultrafine sandpaper to buff down any imperfect areas.
Things You Will Need
Exhaust fan
Rubber gloves
Safety goggles
Alkaline emulsifier
Citrus-based cleaner
Sandpaper
Primer reducer
Scouring pads
Putty
Bonding agent
EP-acrylic paint
Paint sprayer or paintbrush
References
Writer Bio
David Harris is a writer living in Portland, Ore. He currently is the editor-in-chief of the online magazine Spectrum Culture. He holds a Master of Fine Arts in creative writing from Sarah Lawrence College.
Photo Credits
Jupiterimages/Goodshoot/Getty Images
Jupiterimages/Goodshoot/Getty Images
More Articles