How Can I Cover a Cinder Block Wall?
Cinder block is cheap and easy, but far from aesthetically pleasing. There are decorative cinder blocks and also the option to paint, but cinder block is cinder block -- colored or not. Parging is a way of covering up a cinder block wall that is similar to applying stucco.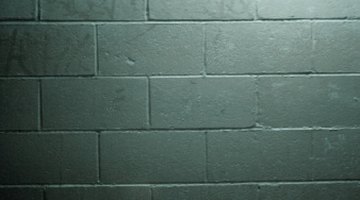 Generally, parging uses mortar while stucco uses plaster. To cover cinder block you mix the mortar to parge and then apply it to the wall in some sort of pattern.
Things You Will Need
Wheelbarrow
80-lb. bag of Portland cement
70-lb. bag of masonry sand
Hoe
Shovel (optional)
Garden hose
Drop cloths
2 trowels
Tip
Always try to complete your work to a corner area ???? before stopping. When you return to work the ending and beginning will be less conspicuous.
Warning
Apply mortar on cloudy warm days. If there isn't enough moisture the mortar will crack during drying. Applying mortar on a rainy day could cause it to never set.
Grab the wheelbarrow and pour in an 80 pound bag of Portland cement. Pour in a 70 pound bag of masonry sand and stir the dry ingredients together until well mixed. Use a garden hoe or shovel to mix.

Add water to the Portland cement and the masonry sand. Use a garden hose and cold water. Add small amounts of water and mix with the hoe until all the water is absorbed. The goal is to saturate the dry ingredients to the point where no more water can be absorbed. The mixture when you run the hoe through the center should not separate.

Spray the cinder block wall with water to moisten. Mortar forms a better bond with a wet surface than a dry one. When applying wet mortar to a dry wall the dry wall sucks out all the moisture from the mortar and causes it to crack and peel.

Throw down drop cloths even if you are working outside. Go to the farthest corner on the wall, wet your trowels and use one to scoop up some mortar. Use the other trowel to take the mortar and apply it to the wall.

Apply the mixture to the cinder block wall. Make a swirl pattern of half-moons on the wall by tilting the trowel on its jagged edge.
References
Resources
Writer Bio
Tammy Bronson has been a freelance writer since 1994. As a writer for Thompson Gale Publishing she wrote autobiographies and legal reviews. With Remilon.com Bronson wrote innovative informative articles about colleges and universities nationwide. She lives in the Greater Boston Area and has a Master of Arts degree in literature and writing from the State University of New York.
Photo Credits
Jupiterimages/Photos.com/Getty Images
Jupiterimages/Photos.com/Getty Images
More Articles