How to Make Homemade Plaster for Walls
If you are redoing a wall or walls in your home, there are many textures and materials that you can use to get the look you want. Consider making a clay plaster for the walls that you can apply and spread as you wish. It will give the wall a red clay southwest feel and can be textured like regular plaster or stucco.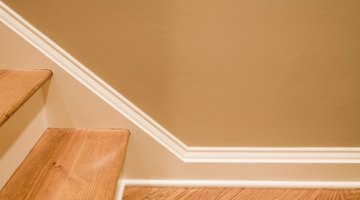 It is made of natural ingredients and is a lot cheaper to use.
Things You Will Need
Shovel
Clay
2 buckets
Sand
Trowel
Mesh or sieve
Dig down about 2 feet in the ground in an area that has clay soil.

Remove a bucketful of soil at this level.

Fill a separate bucket one-third full of water, then add the clay soil from the first bucket. Add soil to the second bucket until it's three-quarters full.

Stir to break up big chunks and then let it sit for a full day.

Stir it the next day to mix it well.

Strain the mixture through mesh into a clean bucket to remove sand and rock. Use a 1/4-inch mesh for a base plaster and 1/8-inch mesh for a finishing plaster.

Mix the watered clay with fine sand to achieve the texture of plaster. This generally results in from 1 part clay mix to 9 parts sand up to 2 1/2 parts clay mix to 7 1/2 parts sand.

Dampen the wall by spraying it with a spray bottle before applying the plaster.
References
Writer Bio
Tara Dooley has written for various websites since 2008. She has worked as an accountant, after-school director and retail manager in various locations. Dooley holds a Bachelor of Science in business management and finance.
Photo Credits
Jupiterimages/Creatas/Getty Images
Jupiterimages/Creatas/Getty Images
More Articles