How to Clean Mildew Off Patio Umbrellas
In warm climates prone to lengthy cycles of high humidity, mildew is to be expected. Moisture and shade create a cozy environment that allows mold and mildew to form on fabrics. If a patio umbrella is stored while it was wet, it may display some unwelcome new colors when you pull it back out -- black and white.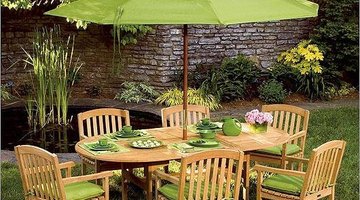 Fortunately there is a very simple remedy for this unsightly and unhealthy problem.
Things You Will Need
Vinegar
Dish soap
Soft bristle brush
Tip
Bleach is highly effective in cleaning mold and mildew but isn't safe for dyed fabrics.
Brush away as much of the mildew as possible with a soft bristle brush. Be sure to do this outside, as this can be quite messy.

Mix two cups of vinegar and two tablespoons of dish soap into a bucket of hot water.

Dip a soft bristle brush in the solution and use it to scrub away the mildewed area. Use more solution as necessary and scrub until all of the mildew is gone.

Rinse the area with clear water. Spraying it with a garden hose is a quick way to rinse it off completely.

Allow the umbrella to air dry in the sunshine.
References
Writer Bio
Melynda Sorrels spent 10 years in the military working in different capacities of the medical field, including dental assisting, health services administration, decontamination and urgent medical care. Awarded the National Guardsman's Medal for Lifesaving efforts in 2002, Sorrels was also a nominee for a Red Cross Award and a certified EMT-B for four years.
Photo Credits
www.patioandmore.com
www.patioandmore.com
More Articles