What Are the Dangers of Toilet Bowl Cleaner?
Toilet bowl cleaner is an essential and effective cleaning product when it comes to bathroom upkeep. If used improperly, however, toilet bowl cleaner poses risks. To prevent yourself or loved ones from being sickened by toilet cleaner, it is important to know the hazards and how to prevent them.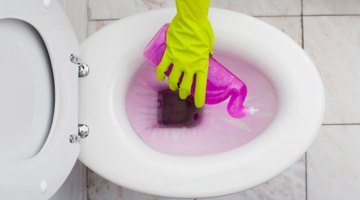 Hazards to Users
Protect yourself and others from the cleaner. Adorn gloves, and cover your nose and mouth with a barrier mask or a handkerchief. Wear an old, long sleeve shirt to protect your arms from the chemicals. An active chemical in toilet bowl cleaner is hydrochloric acid, or HCl. This chemical is corrosive to the skin and toxic if ingested. It causes eye irritation, kidney damage and irritation to your respiratory tract if inhaled. If you get cleaner containing HCl on your skin, remove it immediately with soap and water.
Hazards to Children
Store cleaning chemicals in a child-proof cabinet or in a place where your child cannot reach or gain access. This prevents them from accidentally ingesting the cleaner. Hydrochloric acid is highly toxic, and if your child swallows the chemical, immediately notify poison control at 1-800-222-1222. Your child may begin to vomit, experience pulmonary edema or even go into a coma if toilet bowl cleaner is ingested. Try to determine how much chemical was ingested and how long ago it was ingested. Notify the 911 dispatcher of this information, as well as your child's age and weight.
Pet Hazards
Like children, pets also may ingest toilet bowl cleaner. During and after cleaning your toilet, block off the bathroom from all pets. If you suspect your animal has ingested toilet bowl cleaner, contact your vet immediately.
Considerations
Many toilet bowl cleaners contain less than 10 percent hydrochloric acid, according to the U.S. Department of Health and Human Services. Some products, however, contain upwards of 50 percent hydrochloric acid. When shopping for toilet bowl cleaners, use the list provided by the U.S. Department of Health and Human Services to determine which product best fits your needs.
References
Resources
Writer Bio
Amanda Williams has been writing since 2009 on various writing websites and blogging since 2003. She enjoys writing about health, medicine, education and home and garden topics. Williams earned a Bachelor of Science in biology at East Stroudsburg University in May 2013. Williams is also a certified emergency medical technician.
Photo Credits
Jupiterimages/Polka Dot/Getty Images
Jupiterimages/Polka Dot/Getty Images
More Articles