How to Fix Toilet Bowl Cleaner Spill on Marble
Marble is a naturally occurring material often used for floors, countertops, tile, tubs and sinks. Because it is a stone product, it is more susceptible to stains than other types of materials. Marble stains that are the result of spilled cleaning products, such as toilet cleaner, present even more problems. Not only must you remove the stain from the marble, but you also must re-polish the surface of the marble as well.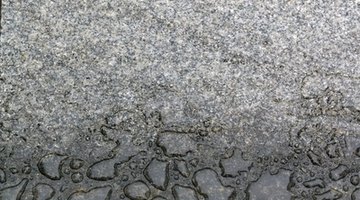 Wipe up the excess toilet bowl cleaner immediately using paper towels or a sponge.

Apply 1 to 2 tsps. of a stone cleaner to a damp sponge, and wipe the cleaner over the entire surface of the spill to remove any discoloration and to stop any etching that the acids in the cleaner can cause.

Rinse the sponge in hot water, and rub it over the marble to remove the stone cleaner residue. Dry the marble with a clean, dry cloth.

Apply 1 to 2 tsps. of marble polishing powder to the surface of the stain if the toilet bowl cleaner created a dull spot in the marble.

Fill a spray bottle with water, and mist the polishing powder lightly until it is damp.

Buff the area with a cloth until the dullness diminishes and you restore the shine to the marble.
References
Warnings
Do not use any other type of cleaning products on marble, as they will damage the surface of the stone.
Writer Bio
Kimberly Johnson is a freelance writer whose articles have appeared in various online publications including eHow, Suite101 and Examiner. She has a degree in journalism from the University of Georgia and began writing professionally in 2001.
Photo Credits
waterdrops on marble image by Stephen Orsillo from Fotolia.com
More Articles