How to Clean With Hydrogen Peroxide
How to Clean With Hydrogen Peroxide. Cleaning with hydrogen peroxide can dramatically cut your monthly household cleaning supplies bill. Use hydrogen peroxide to remove stains, do laundry and clean and disinfect surfaces in your bathroom, kitchen, bedroom, office and anywhere else germs breed.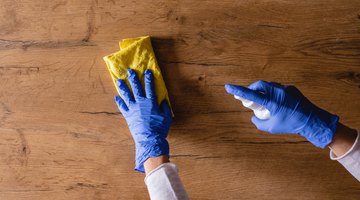 Things You Will Need
3-percent hydrogen peroxide
Water
Cream of tartar
Non-gel toothpaste
Soft cloth
Cotton balls
Humidifer
Toothbrush
Spray bottle
Tip
When filling spray bottles with hydrogen peroxide, only pour as much into the spray bottle as you intend to use. Excess hydrogen peroxide must be kept in its original brown container so that its chemical makeup remains intact. Increase your use of hydrogen peroxide around the house when a member of the household is ill.
Warning
Turn off and unplug your computer when applying hydrogen peroxide to the keys.
Fill a spray bottle with 3-percent hydrogen peroxide. Spray the shower walls with hydrogen peroxide and wipe with clean paper towels. Mist over counters, appliances and inside refrigerators and lunch boxes.

Spoon at least 2 oz. of 3-percent hydrogen peroxide into the detergent compartment of your dishwasher along with your regular detergent. Run your dishwasher as usual to clean and disinfect your dishes.

Pour 3-percent hydrogen peroxide over your toothbrush. Run cold, clean water over the brush before using it again.

Combine 1 pt. of 3-percent hydrogen peroxide with 1 gallon of water. Pour into a humidifier or steamer and run it as usual to clean its interior.

Replace bleach with 8 oz. of hydrogen peroxide to launder and whiten your clothes.

Remove stains by mixing 1 tsp. of 3-percent hydrogen peroxide and some cream of tartar or a toothpaste that doesn't contain gel. Apply the paste to the stain and use a clean, soft cloth to rub it in. Rinse the stain away.

Dampen a cotton ball with 3-percent hydrogen peroxide and run along the keyboard of your computer to disinfect and clean keys.
Writer Bio
This article was written by a professional writer, copy edited and fact checked through a multi-point auditing system, in efforts to ensure our readers only receive the best information. To submit your questions or ideas, or to simply learn more, see our about us page: link below.
More Articles