How to Kill Fleas in Bed Linen
You can kill fleas that are living on bed linens, but they will come right back if you do not control the flea population in the rest of your house. You must treat carpets, yards and pets for fleas as well.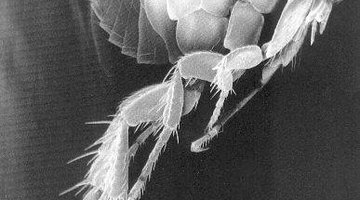 The Northwest Coalition for Alternatives to Pesticides (NCAP) recommends natural pest control methods to avoid exposure to toxic chemicals. You can use natural, pet-safe pesticides in yards and around your house. You can treat pets for fleas with either a natural, pet-safe pesticide shampoo and a flea comb or another method recommended by your veterinarian.
To kill fleas, wash bed linens in a washing machine using regular laundry detergent.

Dry bed linens in a clothes dryer set at the highest temperature allowed according to the bed linen care label.

Rewash bed linens every three days to kill any newly hatched fleas. Do this until the flea population in the household is gone.

Spray bed linens lightly with a natural pesticide to kill and repel future fleas. D-limonene and linalool are natural pesticides that are derived from citrus extracts. The organization "Beyond Pesticides" states in the "Journal of Pesticide Reform" that d-limonene and linalool are effective for controlling flea populations.
Things You Will Need
Washing machine
Laundry detergent
Clothes dryer
Natural pesticide
Warning
Always read the label of flea control products to learn if they are safe to use around your pets. Cats especially are sensitive to many flea control products.
References
Writer Bio
Rose Kivi has been a writer for more than 10 years. She has a background in the nursing field, wildlife rehabilitation and habitat conservation. Kivi has authored educational textbooks, patient health care pamphlets, animal husbandry guides, outdoor survival manuals and was a contributing writer for two books in the Uncle John's Bathroom Reader Series.
Photo Credits
Centers for Disease Control and Prevention (CDC) / Janice Carr
Centers for Disease Control and Prevention (CDC) / Janice Carr
More Articles