How to Get Rust Stains Out of Clothes
Rust is the chemical reaction that takes place between iron and water. This reddish color corrosion slowly eats through metal surfaces, causing damage. While getting rust on your clothes isn't detrimental, it's a different kind of problem as rust stains are notoriously stubborn.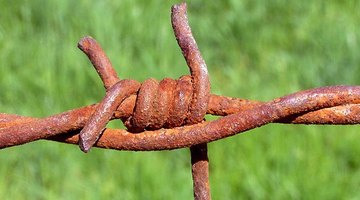 With the right materials, rust stains are easy to fix.
Things You Will Need
Cream of tartar
Table salt
Soft clean cloth
Soft bristle brush
Lemon juice
White vinegar
Rhubarb stalks
Tip
Read the care instructions on the tag carefully as not all types of fabrics can withstand very hot water.
Mix cream of tartar and table salt in equal parts with hot water into a paste and rub it into the stained area with a clean cloth or soft bristle brush. Allow the mixture to sit on the stain for at least 15 minutes before laundering.

Cut a lemon in half and rub it all over the affected area until it is saturated with lemon juice. Sprinkle salt onto the stain and work it into the fibers with a soft clean cloth. Place the garment outside in the sunshine for 2 or 3 hours and launder as usual.

Dampen the area and rub cream of tartar into the stain with a clean cloth or soft bristle brush. Allow the garment to sit for 10 to 15 minutes before laundering as usual.

Rub white vinegar onto the stain with a clean cloth or sponge and allow it to soak for 30 minutes before laundering as usual.

Place rhubarb stalks into a pot of boiling water and allow them to boil for at least 20 minute. Remove the stalks and take the pot off the heat. Place the garment in the water and allow it to soak until the rust stains are no longer visible and launder as usual.
References
Writer Bio
Melynda Sorrels spent 10 years in the military working in different capacities of the medical field, including dental assisting, health services administration, decontamination and urgent medical care. Awarded the National Guardsman's Medal for Lifesaving efforts in 2002, Sorrels was also a nominee for a Red Cross Award and a certified EMT-B for four years.
Photo Credits
Waugsberg: commons.wikimedia.org
Waugsberg: commons.wikimedia.org
More Articles