How to Remove Burn Stains From Stainless Steel Pots
Stainless steel pots, as with any other type of cooking pot or pan, regularly accumulate stains when foods burn onto the bottom and sides of the pot. While the stainless steel surface for the most part is simple to maintain, when it gets burn stains on it it needs to be cleaned more thoroughly to be restored to its original condition. This can be done with a little elbow grease and a few cleaning products.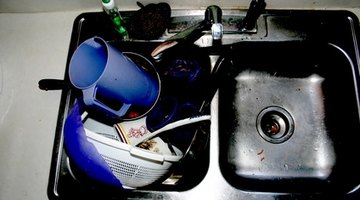 Fill the pot with 1 cup white vinegar, then add water until the burn stains are completely submerged.

Place the pot on a stove burner, and turn the burner on to high heat.

Allow the liquid to come to a boil, and let it boil for 5 minutes.

Allow the water to cool, add a squirt of dish soap to the liquid in the pot, and scrub with a sponge.

Rinse the pot with cold water when all stains have been removed.
References
Tips
Always wash your pots after cooking, before stains have the opportunity to dry onto the surface.
Writer Bio
Mel Frank is a professional freelance writer with over 15 years of writing experience. She has completed a wide variety of writing assignments for a number of publications that include CNN and various websites. Frank received a Bachelor of Fine Arts from a prestigious university in Pennsylvania.
Photo Credits
Morgan_dishes5_070307 image by TMorgan from Fotolia.com
More Articles