How to Get Hair Dye Out of a Rubber Bracelet
Rubber bracelets, whether part of the latest collectibles craze or one that supports a favorite cause, are commonly seen decorating wrists. A rubber bracelet stays clean with little effort, but an unseen splatter of hair dye can leave a stain.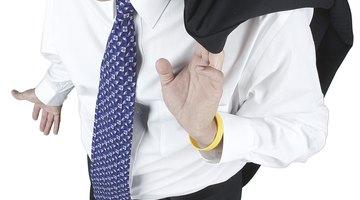 Things You Will Need
Butter
Clean cloth
Whitening toothpaste
Bowl
1 tsp. dishwashing detergent
1/2 tsp. rubbing alcohol
Spoon
Tip
Substitute margarine or shortening for the butter to remove dye stains from your rubber bracelet. Repeat these steps to remove an old hair-dye stain from your bracelet. Use a cotton swab to get stain removing solutions into areas of the bracelet that are indented from letters.
As hair-dye pigment settles into the surface of the rubber bracelet it leaves discoloration behind. Treat a hair-dye stain as quickly as possible for the easiest stain removal. Use supplies that safely remove dye and other pigment stains without ruining the rubber bracelet.
Smear butter on the tip of your finger. Rub the butter into the hair dye stain on the rubber bracelet. Let it sit on the surface for 1 to 2 minutes to soften the dye stain.

Buff the butter off the bracelet with a clean, dry cloth, removing as much of the hair dye stain as possible.

Place a pea-sized amount of whitening toothpaste on the dry cloth and rub it into the rubber bracelet. The whitening agents in the toothpaste help to lift the stain.

Stir together 1 tsp. of dishwashing detergent and 1/2 tsp. of rubbing alcohol in a bowl. Submerge the hair-dye stained portion of the rubber bracelet in the mixture. Allow it to soak for 15 minutes.

Rinse the bracelet under water while rubbing the stain with a cloth to remove the remainder of the stain. Dry the bracelet.
References
Writer Bio
Mary Ylisela is a former teacher with a Bachelor of Arts in elementary education and mathematics. She has been a writer since 1996, specializing in business, fitness and education. Prior to teaching, Ylisela worked as a certified fitness instructor and a small-business owner.
Photo Credits
NA/PhotoObjects.net/Getty Images
NA/PhotoObjects.net/Getty Images
Comstock/Comstock/Getty Images
Burke/Triolo Productions/Brand X Pictures/Getty Images
More Articles