What Are Shelf Pulls?
Shelf pulls is a merchandising term to describe surplus items. Other similar terms used to describe these items are overstock, surplus or closeouts. However, shelf pulls have an additional element to their definition, distinguishing them from overstock. Items labeled shelf pulls are removed from prime merchandising real estate and replaced by new or more in-demand items.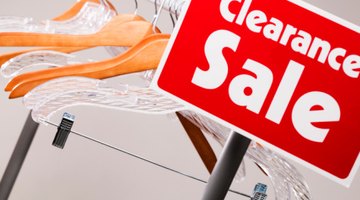 Why Items Become Shelf Pulls
Items labeled as shelf pulls may not have sold because there was a miscalculation in pricing or the item is no longer in style or popular. Other reasons may include that the store doesn't want to propagate an image of low-quality or low-priced items by allowing clearance items on its shelves, or the season has changed and the store wants to rotate its merchandise.
Characteristics of Shelf Pulls
Typically, shelf pulls are in good condition. The items may show signs of handling, have sale or clearance stickers on them or be defaced or de-labled (labels or inner tags removed to prevent return to store). They may be expired or out-dated items, and they may be in an open box or out of the box.
Sources to find shelf pulls
A multitude of websites offer the ability to buy shelf pulls. Typing "wholesale item," "shelf pulls for sale" or "overstock items" into a search engine will provide plenty of bargain buying opportunities.
Popular Online Shelf Pull Items
Popular shelf pull items bought online are granite countertops, light fixtures and stainless steel kitchen appliances, such as refrigerators. Consumers buy these expensive items online on overstock websites at reduced prices.
References
Writer Bio
Jessica Kumor began her professional writing career in 2008. She has written for "The Republican" and served as the opinion editor for "The Bona Venture," her campus newspaper. Kumor is pursuing her Bachelor of Arts in journalism and mass communication at St. Bonaventure University.
Photo Credits
Jupiterimages/liquidlibrary/Getty Images
Jupiterimages/liquidlibrary/Getty Images
More Articles