Benefits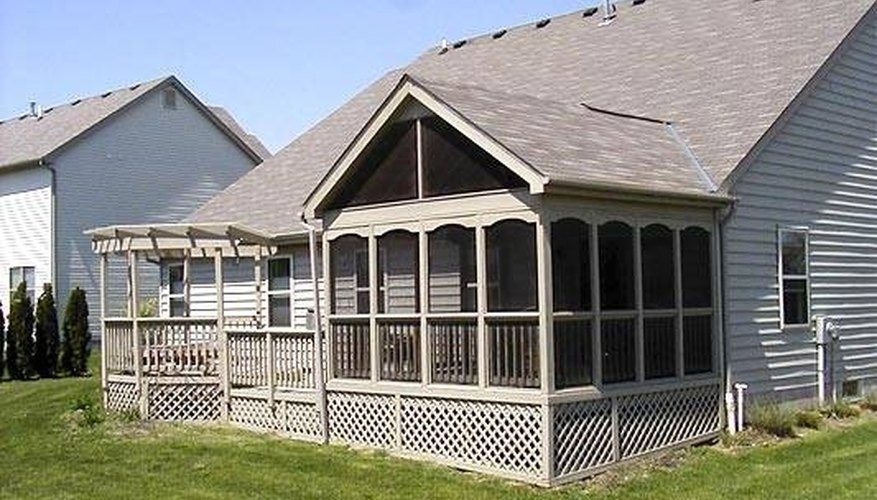 It is intended for enjoyment and beauty. Its purpose is to capture cool breezes and birds singing on a warm day, to shelter you from hot sun, rain and pests, to give you a view of the garden and wildlife, and to create an oasis for a private retreat or family get-together. It can be the best place of all to paint, read, write or sew.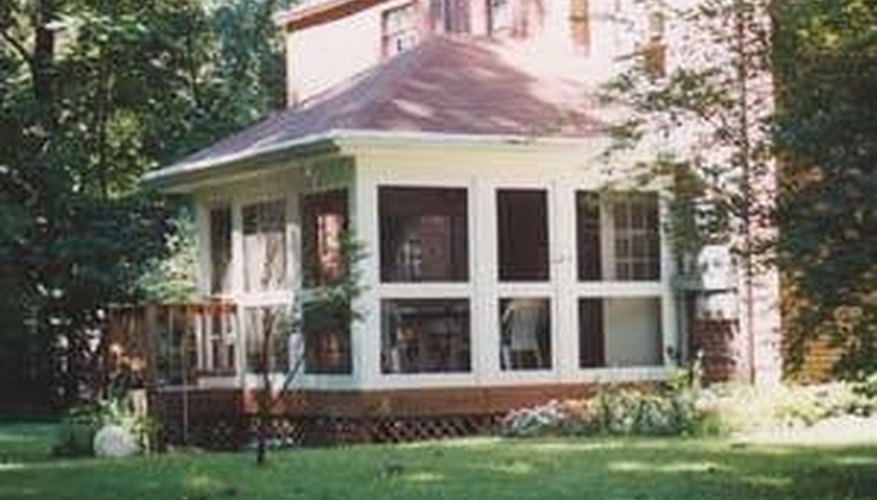 There are many benefits to having a screened porch in a bug-filled backyard. In addition to being pest free, you have a whole new room for eating, entertaining and relaxing. It will be cooler on the porch than it is outside the porch, and you won't have to fret too much about spills and housekeeping. Unless you carpet, you can clean up with a bucket of water and the sweep of a broom. What a great way to send the kids outside and still have them confiined. If you don't have a screened porch, you can build one on a budget. Screened porch design books abound.
Size
First, consider the size of the screened porch, if you're adding one. How many family members and guests do you expect will hang out here? Will that table and chairs fit, and still leave room to open the door to the yard? Where will that big, comfy chair go? Will you have more or less furniture or people than you do in your family room? Remember, you want people to be able to walk around freely. If you know what furniture you're going to use, set it out in the yard, comfortably spaced, and then create "walls" with string. Measure to see how big your string house is. To seat eight people comfortably, your porch probably needs to be as big as 15 feet square.
Considerations
Most screened porches are add-ons, and some of them really look it. If the outside design of the porch does not match the color, material and style of your home, it will have that dreaded afterthought look. So be sure to copy the roof pitch and the exterior trim details of the house. The overhang should match what you have now, or be in scale. For an older home, you may want to build a wood-framed porch, but be aware that it is higher maintenance than aluminum or vinyl. Another consideration is temperature. There will be days with no breeze and hot sun. You will need air movement to make your screened porch comfortable. It's a lot easier to plan for a powerful ceiling fan now than put one in later. If it's high quality you won't even hear it running.
Effects
There can be secondary effects to the way your screened porch is built. For one thing, it will block some of the natural light that is now pouring into the room behind the porch, making it darker than it is now. To avoid too much darkness, add skylights on the porch and maybe even add more artificial lighting inside.
Don't block the view of your backyard. Keep the walls high enough so the roof doesn't overhang and obscure the view of that beautiful tree. Supporting beams and framing around the screening can block the view, too, so allow for that.
Prevention/Solution
Prevent electrical problems by planning for enough electrical outlets. You may want to have lamps, a stereo or a television on the porch, and you should avoid extension cords. Because of the possibility of moisture, they are hazardous. Or on second thought, leave the TV inside. The porch should be a getaway. To prevent problems with flooring, make sure it is weatherproof. It may not be exposed to much sunlight due to the roof, but the floor will get wet from precipitation. Also, small bugs can come up through cracks in the flooring. To avoid that, extend screening all the way to the ground. Fortunately, there are new flooring materials in a variety of styles that offer greater weatherproofing than ever.
Time Frame
It will take some planning time before you can start your porch. You will need a building permit and proper zoning clearance. One expert says building the average screened porch takes approximately 160 man/woman hours of time. Of course, there are many building companies that will get the job done much quicker--usually within a month--but you'll pay a lot more for that.