Nuwave Oven Vs. Jet Stream Oven
Food can be prepared in a variety of ways. Although some foods taste best grilled, others become full of flavor after roasting or baking. Traditionally, your kitchen would need to be stocked with multiple appliances and baking dishes to achieve these different flavors. However, the invention of the NuWave Oven and Jet Stream Oven offered a convenient, flexible option for home kitchens.
Function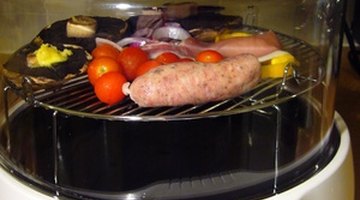 The Jet Stream Oven uses heated air to thoroughly cook foods. According to EverythingKitchens.com, the device cooks in a variety of ways. It will bake, broil, fry, boil, grill, steam, warm, toast and barbecue. It also serves as a rotisserie and wok.
The NuWave Oven uses halogen bulbs, circulating air and infrared heat to cook food. As explained at NuWaveOven.com, the device uses innovative "triple combo cooking power," which includes conduction, convection and far infrared. You can use the NuWave Oven to broil, roast, bake, steam, grill, barbecue, fry and dehydrate foods.
Specifications
Jet Stream Oven model JS-4000TP, which was introduced in 2010, uses 1,500 watts and 120 volts of power. The device is made of heat-resistant plastic, which contributes to its light weight. The Jet Stream oven weighs 10 pounds, is 8 inches high and just over 13 inches wide.
The NuWave Oven also uses 1,500 watts of power and uses a standard residential outlet. Weighing in at only 9 pounds, the device sits just over 13 inches tall and just over 15 inches wide.
Options
Both the NuWave and Jet Stream ovens offer expander kits, which allow you to expand the oven to fit whole turkeys and chickens.
The "extender ring kit" offered by NuWave includes a 2-inch extender ring, 10-inch baking pan and 2-inch cooking rack. The 3-inch extender ring expands the space inside the oven by nearly 50 percent, allowing you to cook up to a 16-pound turkey or 14-pound ham.
With the Jet Stream Oven, up to three expander rings can be added to the unit, allowing you to cook whole turkeys and chickens.
Care
Both the NuWave Oven and Jet Stream Oven can be disassembled for easy cleaning. The top rack of the dishwasher is safe for all oven parts except the power head. However, neither the drying cycle nor rinsing agents should be used when washing Jet Stream oven parts in the dishwasher. When washing by hand, do not use abrasive cleaners or cleaning pads.
Cost
The Jet Stream Oven by Nesco tends to be slightly more expensive than the NuWave Oven. In 2010, the Jet Stream Oven sold for $140 to $180, while the NuWave Oven sold for $100 to $120. However, ovens purchased at NuWave.com also include an instructional DVD, cookbook, recipe cards, pizza kit, carrying case and lifetime membership to the NuWave Cooking Club.
References
Resources
Writer Bio
Krista Sheehan is a registered nurse and professional writer. She works in a neonatal intensive care unit (NICU) and her previous nursing experience includes geriatrics, pulmonary disorders and home health care. Her professional writing works focus mainly on the subjects of physical health, fitness, nutrition and positive lifestyle changes.
Photo Credits
infrared oven with food image by Shirley Hirst from Fotolia.com
More Articles