Countertop Ovens That Fit a 9x13 Sheet Pan
There are times you'd like to cook a dish in a traditional oven without using all the energy required to heat a full-size oven -- on a hot summer night, for instance, when using the full-size oven can make the kitchen stifling, or when you're baking just a single dish. A smaller "countertop oven" offer a solution, though most are too small to accommodate a 9-by-13-inch baking pan for cooking a pizza or baking a cake or a batch of cookies. The countertop ovens that will accommodate a 9-by-13-inch pan are few.
Breville BOV800XL Smart Oven 1800-Watt Convection Toaster Oven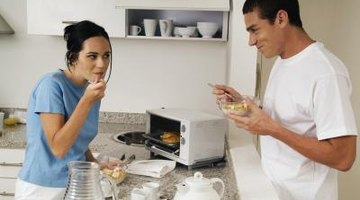 This 1800-watt convection toaster oven includes nine preset function, such as toast, bake, broil, pizza and cookies. The oven has five quartz heating elements and an auto-eject wire rack. It measures 18-1/2 by 16-1/4 by 11-1/4 inches on the outside and includes a 12-inch-square enamel baking pan and broil rack, along with a 13-inch nonstick pizza pan.
Oster Convection Toaster Oven
You can cook a whole chicken in an Oster convection toaster oven. The large size of the oven accommodates a 9-by-13-inch pan if the pan is without handles. The exterior size of an Oster Convection Toaster Oven is 20 inches by 16 inches by 14 inches. Cooking functions include bake, broil, defrost, warm, toast and pizza. The oven has an interior light, a removable crumb tray, a 90-minute timer and two rack positions. A baking pan is included.
Oster Large Digital Countertop Oven
This convection oven features stainless steel finish and digital controls; it can fit casserole pans and 9-by-13-inch sheet pans, as well as hams, roasts and whole chickens. The Oster Large Digital Countertop Oven has the capacity to bake a large frozen pizza. The oven has a temperature range of 150 degrees to 450 degrees. It includes a removable enamel baking pan and broiling rack.
Hamilton Beach Countertop Oven With Convection and Rotisserie (31100)
This oven's large capacity and two racks can fit two 9-by-13-inch casseroles, two 12-inch pizzas or two round cake pans. It includes a revolving rotisserie that bastes meat as it turns. In addition to the two racks, the oven includes two baking pans, a broiler rack and rotisserie accessories. Its exterior dimensions are 20-3/4 inches by 12-1/2 inches by 17 inches.
References
Writer Bio
Barbara Ruben has been a journalist for over 25 years. She has written extensively for the "Washington Post" and served as editor for an international health-care magazine and a group of newspapers for older adults. She earned a master's degree in journalism from Indiana University.
Photo Credits
Medioimages/Photodisc/Photodisc/Getty Images
More Articles