List of Small Appliance Manufacturers
Small appliances refer to portable or semi-portable home appliances which are used on countertops or tabletops. They are easily moved. These products include toaster ovens, microwaves, toasters, blenders, coffee-makers, rice cookers and mixers. In contrast to small appliances, major appliances cannot be easily moved and include appliances like refrigerators, washers, dryers, etc. Popular manufactures of small household appliances include Cuisinart, Black & Decker, Hamilton Beach, George Foreman and Kitchen Aid.
Cuisinart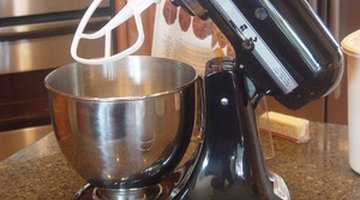 A division of the Conair Corporation since the late 1980s, Cuisinart is a popular small appliance manufacturer that is well known for its kitchen appliances. The mission of this manufacturer is to help consumers "Savor the Good Life." The range of Cuisinart products includes food processors, blenders, coffeemakers, cookware, countertop cooking appliances (such as their Griddler and Rice Plus multi-cooker lines), toaster oven broilers, waffle makers, microwave ovens, stand mixers, hand mixers, frozen yogurt and ice cream makers, and other small kitchen appliances.
Black & Decker
Renowned for its power tools and home improvement products, Black & Decker has also moved into the small appliance industry. This brand name manufacturer has a collection of microwave ovens, blenders, coffee- and tea-makers, can and jar openers, juicers and other kitchen products. Black & Decker is also known for its Spacemaker products.
Hamilton Beach
Hamilton Beach is a small appliance manufacturer specializing in kitchen appliances. This manufacturer sells more than 35 million small appliances annually. Hamilton Beach products include juice extractors, kettles, coffeemakers, blenders, rice cookers, indoor grills, slow cookers, toasters and other small appliances for the kitchen.
George Foreman
The George Foreman brand is synonymous with the indoor grill. Since the 1990s, this small appliance manufacturer has sold over 100 million grills worldwide. In addition to offering indoor grills in a variety of sizes (small, medium, large), George Foreman also specializes in countertop oven and rotisseries, electric skillets, griddles, Panini grills, searing skills and multi-cookers.
KitchenAid
Founded in 1919, this small appliance manufacturer is known for its bestselling stand-mixers and high- quality kitchen appliances. Other KitchenAid small appliances include blenders, coffeemakers, food processors, slow cookers, hand-mixers and microwave ovens.
References
Writer Bio
DoanPhuong Nguyen has been a professional writer since 2007. Her articles have appeared in "Nashville City Paper," "Nashville Parent magazine" and numerous online publications. She holds a Bachelor of Arts from Vanderbilt University. She is also member of the Society of Children's Book Writers and Illustrators.
Photo Credits
More Articles