What Thermometers Are Safe for Microwave Ovens?
NSF, a nonprofit that works to promote public health and safety, explains that although microwave ovens are great time savers, they also pose a health risk if not used properly. Foods are often unevenly cooked in microwave ovens, leaving raw or cold areas where bacteria thrive. You can take several precautions to safeguard your health when cooking with this type of appliance, including using a thermometer designed for microwave use.
514 Connoisseur Microwave Thermometer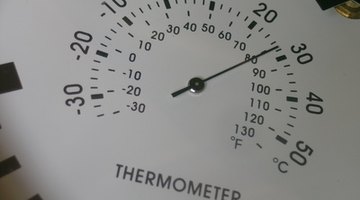 Manufactured by Taylor Precision Products, the 514 Connoisseur Microwave Thermometer has a temperature range of 100 to 200 degrees Fahrenheit. It also comes with a protective sheath that easily penetrates the food, thanks to its sharp point. In addition, on one of the thermometer's sides you'll find a list of common foods and the safe temperature for serving them.
Microwave Spirit Filled Thermometer
The Microwave Spirit Filled Thermometer registers temperatures between 85 and 230 degrees Fahrenheit. This ThermoWorks product also comes enclosed in a plastic cover and it is part of a set, which includes a microwaveable plastic skewer.
Thermometer, Test (50/550F)
The Thermometer, Test (50/550F) is a dial thermometer manufactured by Franklin Machine Products. This product is stainless steel and comes with a hard plastic storage sleeve. It reads temperatures between 50 and 550 degrees Fahrenheit and can also be calibrated.
Redi-Chek® Pro Electronic Food Probe Thermometer
Manufactured by Maverick, the Redi-Chek® Pro Electronic Food Probe Thermometer turns itself on automatically when the food in the microwave reaches 115 degrees Fahrenheit. Its parts are made of FDA-approved plastic and stainless steel. This thermometer is also accurate to 1 degree Fahrenheit.
References
Writer Bio
Emma Watkins writes on finance, fitness and gardening. Her articles and essays have appeared in "Writer's Digest," "The Writer," "From House to Home," "Big Apple Parent" and other online and print venues. Watkins holds a Master of Arts in psychology.
Photo Credits
thermometer image by Alfonso d'Agostino from Fotolia.com
More Articles