'70s Refrigerator Colors
Earth tones inspire the kitchen appliance colors of the 1970s, with several shades so dominant they may still be found in older homes or in thrift-store kitchenware. Harvest gold and avocado green rule refrigerator colors of the era, withe other shades such as coppertone and Swiss chocolate not far behind. Many of autumn's colors rule the kitchen when it comes to 1970s decor schemes.
An Abundant Harvest of Gold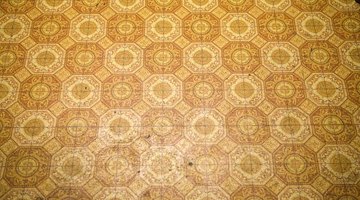 Harvest gold, by any name, is found in abundance on refrigerators and other appliances from the 1970s. This muted version of a dark yellow carried over to other kitchen accessories such as crock pots and canister sets, sometimes paired with a mushroom theme also common to the era. Harvest gold couples with dark wood tones and other autumn-inspired shades common to 1970s kitchen decor.
Avocado Green Galore
Avocado green is another dominant 1970s shade as a favored choice for appliance colors during the decade. Avocado green resembles a sliced avocado as it starts to brown, similar to the color of some green olives. This shade of green complements harvest gold and the brown or wood tones also common to the 1970s-era kitchen. As with harvest gold, many kitchen accessories of the era also bear this green shade, such as baking dishes, plastic cups and storage canisters.
Burnt Orange, Renamed
A color resembling burnt orange suits the 1970s homeowner seeking an alternative to harvest gold or avocado green. This shade resembles a rust color -- a much toned-down version of bright poppy orange prevalent in during the 1960s decor schemes. The color's name varies based on manufacturer; tiger lily, poppy or coppertone are some of the names given to the orange-based shades of the era.
Espresso in the Kitchen
Espresso is a 1970s refrigerator color for an era full of brown tones in the kitchen. Brown appliance colors from this decade may have other names, such as sequoia or Swiss chocolate. Some of the brown tones contain a slight orange tint. No matter the name or exact tint, espresso brown looks right at home along with the harvest golds, oranges and avocado greens of the decade.
References
Resources
Writer Bio
Kathy Adams is an award-winning journalist and freelance writer who traveled the world handling numerous duties for music artists. She writes travel and budgeting tips and destination guides for USA Today, Travelocity and ForRent, among others. She enjoys exploring foreign locales and hiking off the beaten path stateside, snapping pics of wildlife and nature instead of selfies.
Photo Credits
FogStock/Alin Dragulin/FogStock/Getty Images
More Articles