Discontinued KitchenAid Colors
Kitchenaid has offered a vast array of kitchen items for the home cook and the commercial kitchen. As Kitchenaid continued to develop its brand, new color options were offered to allow cooks to personalize the decor of many of their kitchen appliances. Understanding how to locate and repair Kitchenaid appliances and utensils in a discontinued color will aid you in establishing the kitchen color scheme that you desire.
History of Kitchenaid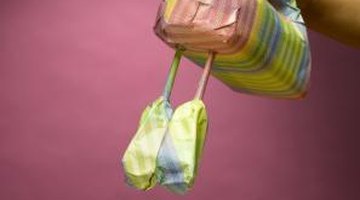 Kitchenaid started producing kitchen items in 1919, first manufacturing the H-5 stand-up mixer. The company expanded to include other items, and Kitchenaid began to offer a vast array of colors for its mixers in 1955. First appearing at the Atlantic City Housewares Show, the new colors offered the home cook the opportunity to add color and style to her kitchen through her mixer.
History of Colors
The first colors included Sunny Yellow, Petal Pink, Satin Chrome, Island Green and Antique Copper. Harvest Wheat and Avocado were added to the color options in 1970. Further expanding the home kitchen cook's decorating opportunities, Kitchenaid introduced matching color home appliance suites, including colors such as Empire Red and Cobalt Blue. In 1999, colorful utensils became available with colored washers and dryers available in 2001.
Color Trends and Changes
As color styles trend over the years, Kitchenaid offers altered or updated color options. Petal pink is no longer available, but had been replaced by a lighter pink on the Cook for the Cure Edition mixer, which supports breast cancer research, or the deep pink Raspberry Ice option. Avocado and Harvest Wheat are discontinued, but are succeeded by more modern options such as Copper Pearl and Cinnamon, which trends toward the earth tone color palette. From time to time, limited edition colors are offered, such as the Martha Stewart Green, which had been discontinued and replaced with a light blue. The more classic, timeless colors such as white, black and chrome continue to be offered are less likely to be discontinued.
Locating Discontinued Colors
Search for your discontinued color Kitchenaid mixer or utensil on online auctions. Local flea markets and garage sales offer another opportunity to find discontinued Kitchenaid items. For any discontinued item that needs repaired, Kitchenaid offers a vast array of replacement parts online or via phone. Vendors of refurbished Kitchenaid products may also sell recently discontinued colors.
References
Writer Bio
Melissa Sabo is an occupational therapist who started writing professional guidebooks for all Flagship Rehabilitation employees in 2009. Specializing in applied therapy and exercise for non-medical readers, she also coauthored a manual on wheelchair positioning. She graduated from the University of Pittsburgh with a Bachelor of Science in occupational therapy.
Photo Credits
Jeffrey Hamilton/Lifesize/Getty Images
More Articles