Roaster Oven Tips
In roaster ovens, heat is distributed throughout the heating chamber, and they work much like convection ovens. Roaster ovens are free-standing and plug into an electrical outlet. A large removable pan sits on an electrical heating element that is about the same shape as the pan, which is covered with a lid.
About Roaster Ovens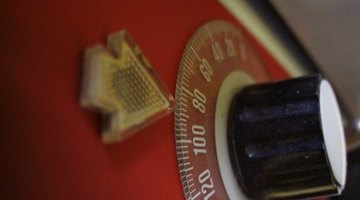 Roaster ovens have cooking and heating ranges from 200 to 450 degrees and can be used for baking, steaming, roasting or slow cooking. You place the food on a rack that sits inside the pan, which in not unlike the procedure used in a traditional oven roasting pan. The most common size is about 18 quarts, but larger and smaller sizes exist. You might want a larger size to cook a turkey or a smaller size for vegetables.
Cooking for Parties
Use your roaster oven to cook easy party meatballs and if your party is casual, serve them right from the pan. Empty a 5 lb. frozen bag of pre-cooked and thawed meatballs into the insert pan. Mix a 12 oz. jar of grape jelly and another of currant jelly. Then add a 12 oz. bottle of chili sauce and a bottle of spicy cocktail sauce. Pour over the meatballs and cook at 250 degrees for two hours before serving.
Dessert Cooking Tip
Make an easy apple dessert crisp in your roaster oven. Preheat the oven to 400 degrees. Put three cups of sliced apples in a prepared 9 x 5 inch loaf pan. Mix 1 cup of quick-cooking oats, 2/3 cup of brown sugar, 1/2 cup of flour and a tsp. of cinnamon in a bowl. Add 1/4 teaspoon each of salt and nutmeg and 1/2 cup of melted butter. Spoon on top of apples, cover and bake until it bubbles, or about 30 minutes.
References
Photo Credits
oven temperature control in red image by laurent dambies from Fotolia.com
More Articles