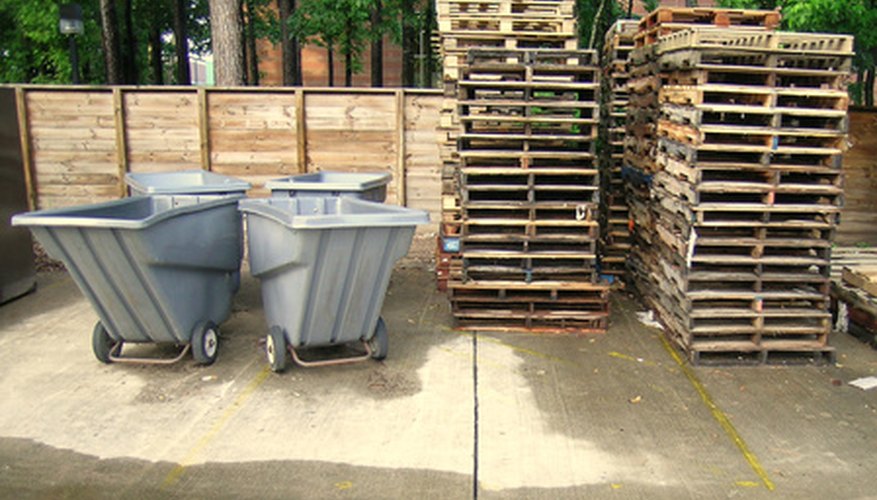 Build a cheap twin bed to use as a temporary place to rest your head or as budget guest bedroom furniture. Repurpose lightly used shipping pallets to create an inexpensive, yet functional twin bed. Personalize the bed by painting its pallet frame and choosing a matching fabric to cover its faux headboard, or leave out the paint and headboard to further reduce the cost of building your twin bed.
Sand your shipping pallets, smoothing all rough areas. Inspect the pallets carefully for errant nails or splinters and remove them.
Paint one side of each of your pallets and allow them to dry. Turn them over and paint the other sides. Apply additional coats if necessary. Allow the pallets to dry thoroughly.
Flip the pallets so their flat sides rest on the floor. Line up the two pallets next to each other, visually creating a longer pallet that should now be about twin bed length.
Cut your 2x4-inch beam into two equal pieces, each about 3-feet long. Place them centered and lengthwise over the crack between the two side-by-side pallets, one on each side of the pallet's center beams.
Screw the beam pieces to the pallet beneath, using four 3-inch wood screws, two at each end of the beams, about an inch inside from the ends and sides of the beams.
Dry fit your casters to the four corners of your newly constructed bed frame's bottom, making sure the casters' hardware doesn't overlap the edge of the bed frame. Attach the casters to the frame by screwing the casters' included screws through their hardware screw holes.
Flip your bed onto the casters. Set it against the wall as you'll have it once the project has been completed.
Lay out your fabric face down. Put your canvas face down and centered on top of the fabric. Pull the edges of the fabric, which are sticking out from around the canvas, over to the canvas' back and staple down.
Hang the piece on the wall, using a hammer and a nail as you would hang any lightweight canvas. Center it over your bed frame with the bottom touching the frame; it now functions as a headboard.
Dress your mattress and place it on top of the bed frame. Cover the bed with your sheets, comforter, pillows and shams to complete the project.
Things You Will Need

Two shipping pallets
Palm sander
High gloss latex paint
Paint tray
Paintbrush or roller
2x4-inch beam
Handsaw
Four 3-inch wood screws
Electric drill
Four casters
3x4 ft. canvas
2 yards of fabric
Staple gun
Heavy-duty staples
Twin mattress
Bedding, twin size
Pillows and shams
Tip
Be selective when choosing your pallets. Make sure they weren't chemically treated and were kept indoors, away from pests. Even higher grade pallets are still inexpensive.