How to Clean a Glass-Topped Dining Table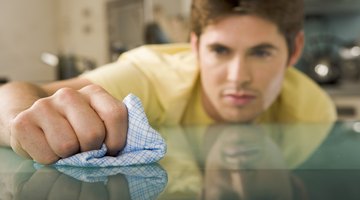 A glass-topped dining table adds a light, modern feel to a room because of the transparency or reflectiveness of the glass. These features create an attractive dining area, but they also mean that even moderate amounts of light highlight every bit of dust, dirt or streaks that would be hardly noticed on a wooden or laminate table. The key to a good cleaning job is a streak-free glass-cleaning liquid, such as water and vinegar, and using a lint-free means of wiping the table down. You may also use store-bought cleaners, but they are not necessary.
Step 1
Remove and set aside any objects on the table. Wipe the tabletop with a dry lint-free cloth to remove light dust and dry materials such as salt. Wipe the underside of the glass tabletop as well, if the glass is completely transparent.
Step 2
Pour hot tap water into a bowl. Dip a clean lint-free cloth into the water, wringing out excess water. Wipe down the table glass with the hot water, rubbing firmly over areas of spills or stuck-on substances. If the table is highly soiled, mix in a squirt of mild dish-washing soap with the water. Wipe the table again with soapy water, then rinse by wiping it down with a damp, clean cloth. Rub the glass dry with a lint-free cloth.
Step 3
Mix a 50-50 solution of water and vinegar in a spray bottle for a homemade glass table cleaner. Squirt the mixture over the surface of the table for standard cleaning. Wipe the damp table with a lint-free cloth, or use a wadded-up piece of newspaper if the cloth leaves dust behind.
Tip
While the underside of a clear glass tabletop probably won't require a full washing very often, dusting it each time you dust the top side keeps the table looking its best.
Tip
Rub the tabletop down with balled-up newspaper anytime specks of dust remain after cleaning with a cloth.
Things You Will Need
Soft lint-free cloths
Hot water
Bowl
Dish soap
Spray bottle
Vinegar
Newspaper
References
Writer Bio
Kathy Adams is an award-winning journalist and freelance writer who traveled the world handling numerous duties for music artists. She writes travel and budgeting tips and destination guides for USA Today, Travelocity and ForRent, among others. She enjoys exploring foreign locales and hiking off the beaten path stateside, snapping pics of wildlife and nature instead of selfies.
Photo Credits
Adam Gault/Digital Vision/Getty Images
Adam Gault/Digital Vision/Getty Images
More Articles