The Value of a Sears Model 70 Series Washer & Dryer
Sears model 70 series washers and dryers have been around for over three decades now, already succeeded by Sears model 80 and 90 series units. However, customers continue to value the older 70 series line for its competitive power, capacity and energy efficiency.
Efficiency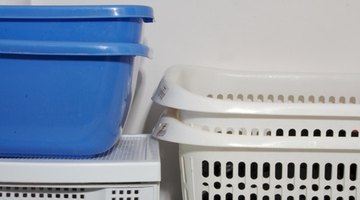 Don't let the fact that Sears model 70 units are top loaders fool you. They're still as energy efficient as most modern front loaders, in large part because you can operate them using gas. As an older series, they come with a cheaper price tag than more recent models, thereby boosting cost-efficiency as well.
Power
Parents with active children have long revered the Sears model 70 series washer as a rugged, heavy-duty machine capable of removing tough stains, lending to its reputation as a "workhorse." Families also appreciate that these units wield a quiet power, running unobtrusively in the background without any irritating noises. Moreover, a moisture sensor in the Sears model 70 series dryers helps conserve power.
Capacity
All of the Sears model 70 series washers and dryers are large-capacity units, with the drums on some of the extra-capacity units as large as 6.8 cubic feet. This increases the efficiency of doing laundry overall by reducing the amount of loads needed to complete the chore.
References
Resources
Writer Bio
Based in Maine, Sage Kalmus has written extensively on fitness, nutrition, alternative health, self-improvement and green living for various websites. He also authored the metaphysical fiction book, "Free Will Flux." Kalmus holds a Bachelor of Science from Boston University's College of Communication and is a Certified Holistic Health Counselor with special training in Touch-For-Health Kinesiology.
Photo Credits
wash basins and baskets image by dana nicolescu from Fotolia.com
More Articles