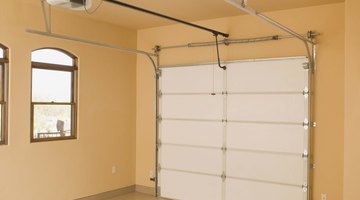 If you look around at other houses in your neighborhood, you may not see garages with window treatments. But window treatments in garages serve multiple purposes, such as keeping prowlers from peaking in at night and reducing heat gain from direct sunlight or cold loss during the winter months. Make window treatments in a garage durable, easy to clean and safe -- use materials that fit the garage environment.
Blinds and Shades
Metal or vinyl blinds offer a tough and an attractive solution for covering garage windows. If you use vertical blinds, they do collect dust and other debris typically found in a garage, such as sawdust or road dust. If you prefer shades to blinds, opt for shades made from sturdier materials. Vinyl shades offer a quick solution -- easy to damp clean and come in a variety of colors. Bamboo or woven-wood shades made provide durability.
Films
Reflective or opaque films clean up easily. With this method, nothing hangs in the window that creates a potential fire hazard. You can also apply them to vision panels in garage doors. Choose adhesive film for a more permanent solution, or opt for static cling films that allow removal later. The opaque or frosted films come in a variety of interesting patterns and textures. Opaque films also help diffuse the daylight and make the light softer in the garage with less glare. If the garage windows face south, a reflective film keeps the heat gain in the garage down.
Interior Shutters
Interior shutters can withstand the beating a garage puts window treatments through. Install shutters to protect the glass panes in windows from tools or sports equipment haphazardly leaned against them. Vinyl offers the best material for shutters in the garage, as wood shutters cost more and suffer damage easier. Shutters split mid-height allow you the flexibility of having the upper portion of the window open to allow daylight in the garage, while keeping the lower section closed.
Recycled Shower Curtains
Traditional curtains in garages can get dirty quickly and do not offer long-term durability. If your garage contains paints, gas cans or other chemicals, cloth curtains can lead to fire hazards. Recycled shower curtains provide an alternative to hanging cloth curtains. Introduce bright colors, quirky designs and interesting patterns to the garage with shower-curtain window treatments. Size the shower curtain by cutting it a few inches bigger than the window opening. Hang it on a tension curtain rod in the window frame or install a standard rod above the window.
Resources
Writer Bio
Kathy Russell has been a practicing architect for more than 20 years. She is licensed in the states of Montana and Washington and holds a National Council of Architectural Boards certificate. Her professional experience has been large, high-end homes; multifamily housing; commercial and industrial projects.
Photo Credits
Jupiterimages/Stockbyte/Getty Images
Jupiterimages/Stockbyte/Getty Images
More Articles