How to Troubleshoot a Roper Fridge That Is Not Cooling
Roper is an appliance brand owned by Whirlpool, the company that also operates the Maytag and KitchenAid brands. Troubleshooting cooling problems with your Roper fridge first involves ruling out commonly reported problems by other owners. In many cases cooling problems have simple solutions and do not always require a visit from a technician. Roper recommends following basic troubleshooting steps before attempting to carry out repairs or contacting an authorized service dealership.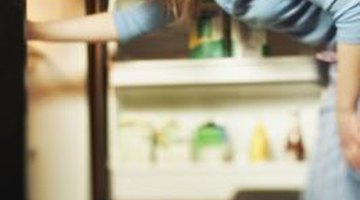 Step 1
Turn the thermostat dial, located just inside the door, to a numbered setting -- not zero or "off." The numbers on the dial correspond to the strength of cooling from the motor: the higher the number the cooler the temperature. Changes take about 24 hours after adjusting the thermostat.
Step 2
Wait at least 30 minutes after discovering a rise in temperature -- the refrigerator could be performing an automatic defrost cycle to melt ice accumulations from the internal components. The refrigerator should start running and temperatures stabilize after 30 minutes.
Step 3
Follow the power cord to the electrical outlet, disconnecting any extension cords or plug adapters along the way. The power cord is the only suitable means of providing electricity to the refrigerator -- other cables may not be able to handle the necessary voltage and thus short out.
Step 4
Go to your home's fuses or breakers and check for signs of a fault. The fuse or breaker protecting the fridge's outlet could have been tripped or blown by an electrical fault. Replace the fuse or reset the breaker and see if the refrigerator begins cooling. Other appliances or outlets were likely affected by the power outage.
References
Photo Credits
Jupiterimages, Brand X Pictures/Brand X Pictures/Getty Images
More Articles