How to Reset a Refrigerator's Defrost Control on a GE Monogram
Monogram is a premium line of GE appliances designed for customized performance and sophisticated aesthetics. The refrigerators offered in the Monogram range are feature-rich and varied, including side by side refrigerator freezers, built-in separate refrigerator or freezer columns and glass door refrigerators, among many other configurations. In keeping with this premium on sleek looks, all of the highly customizable electronic temperature controls are hidden inside the unit or in the door jam. The digital controls for the freezer and refrigerator are separate, but next to one another. They are set to default temperatures and electronically control the defrost and cooling cycles of each unit. When the cooling temperature is changed, the defrost cycle is changed automatically, resetting to maintain the new temperature standard accordingly.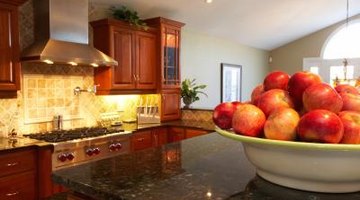 Step 1
Press the "+" or "-" button for the refrigerator or freezer once and wait five seconds for the current temperature to display on the digital readout. The factory preset temperatures are 0 degrees for the freezer and 37 degrees for the refrigerator. If the temperature setting has been changed at some point the display will read lower or higher.
Step 2
Lower the unit temperature by depressing the "-" button until the digital readout shows the desired temperature. The lowest recommended temperature for the refrigerator is 34 degrees F. and -6 degrees F. for the freezer.
Step 3
Raise the unit temperature by depressing the "+" button until the desired temperature displays on the digital readout. The highest recommended temperature setting for the refrigerator is 45 degrees F. and 6 degrees F. for the freezer.
Step 4
Allow 24 hours for the units to reach the new set temperature that you programmed.