How to Check a Maytag Refrigerator Thermostat
The thermostat plays an important role in keeping your refrigerator running safely and efficiently. It makes sense to check the thermostat as often as possible to ensure your food is being stored in the best possible environment. Fresh produce will last longer in a properly configured and cooled refrigerator. Modern Maytag refrigerators with their digital thermostats are easier to check than out-dated, dial-operated appliances. You should aim to check your thermostat every few months.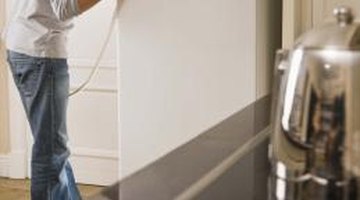 Step 1
Press the "Temperature" button on your refrigerator's control panel. The display will show the current temperature settings.
Step 2
Tap "Select Zone" until "Fridge" appears on the screen.
Step 3
Tap the "+" or "-" button to move the temperature up or down. Aim for 37 degrees Fahrenheit for best results.
Step 4
Press "Home" to return to the main screen and confirm your changes.