Kirkland Signature Whirlpool Refrigerator Troubleshooting
Kirkland Signature is Cosco's house brand that's applied to a range of food, drink, and electrical appliances. Some products carrying the Kirkland Signature badge are re-branded Whirlpool kitchen appliances. Troubleshooting your Whirlpool-manufactured Kirkland Signature refrigerator becomes necessary when the appliance stops working or cooling properly. You will save time and money if you prevent an unnecessary visit from a Whirlpool technician by solving the technical issue at home.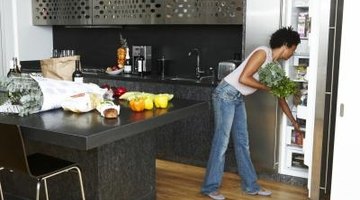 Plug the power cord into a three-prong, 120-volt electrical outlet. The cord might be loose in the socket or disconnected. Always connect your Kirkland Signature appliance directly into the outlet. Extension cords, power bars and adapters may not support the required voltage and cause a malfunction.

Wait at least 30 minutes after noticing the appliance isn't running. The defrost heater could be melting ice from the refrigerator's condenser coils. Ice naturally builds up inside the refrigerator during normal use. Your refrigerator periodically stops cooling so ice can melt into the evaporation pan. The refrigerator should start cooling again once defrosting is complete.

Take a look inside your circuit breaker or fuse box for signs of a fault. A blown fuse or tripped breaker in the refrigerators circuit cuts power to appliance. Change the blown fuse for a suitable replacement or reset the breaker and see if power is restored to the refrigerator.

Move the thermostat dial inside the door at the top of the refrigerator to position "3 - Normal." The thermostat dial might have been knocked while you were loading food. The refrigerator doesn't run when the thermostat is in the "Off" position. Changes to the thermostat take several hours to come into effect.

Check that the door closes properly. Food, containers, bottles and jars hold the door ajar if misplaced inside the refrigerator. The rubber door seals must make contact with the frame of the refrigerator. Room temperature air leaks into the refrigerator when the door isn't closed, reducing its efficiency.