Crosley Refrigerator Troubleshooting
Crosley is an independent appliance company that makes a range of refrigerators, dishwashers and other home electronics. If you're experiencing problems with your Crosley refrigerator, follow a few simple troubleshooting steps. Some minor technical issues are easily fixed at home without special training or tools. The precise location of some buttons and parts will vary based on the exact model of Crosley refrigerator you own.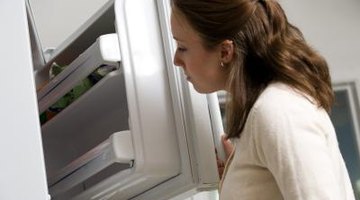 Step 1
Open the refrigerator and check the thermostat setting. The refrigerator won't run if the dial is turned to the "0," "OFF" or "OF" position. Be careful you don't knock the thermostat dial while loading food into the refrigerator. Turn the thermostat dial to the "Factory Setting" position for optimum food preservation.
Step 2
Wait thirty minutes before making any changes--the refrigerator could be performing a routine defrost cycle. Crosley refrigerators periodically melt ice off the condenser coils to prevent ice build-up restricting the cooling function of the freezer. Defrost cycles last around thirty minutes after which the refrigerator returns to its normal function.
Step 3
Open the fridge and check the interior light. The electricity supply has been cut off if the light doesn't come on. Check the power cable is still connected to an electrical outlet, the outlet is switched on. Don't use an extension cord or power bar with your refrigerator--always connect the appliance directly to an outlet. Check your fuses or breakers if the outlet isn't supply electricity. Always use a 15 amp time-delay fuse to protect your refrigerator.
Step 4
Think about how you use your Crosley refrigerator. Don't prop the doors open for more than a few seconds or store warm food inside the refrigerator or freezer compartments--moisture will build up on the refrigerator walls and coils. Check that the rubber gaskets make contact with the refrigerator when the door is closed. Food, containers and bottles can easily block the door open and allow room temperature air into the appliance.