How to Remove Stains From Belgard Unsealed Pavers
Belgard Hardscapes creates pavers, walls and other materials to enhance your outdoor living area. Unsealed pavers are similar in nature to natural stone surfaces. The porous material can easily absorb stains. Using Belgard pavers in the color, texture and design of your choice to create the look you want for your outdoor space is an investment in your home. Keep your pavers clean to maintain their appearance. You can remove stains from Belgard unsealed pavers by using techniques and supplies similar to those you use to clean natural stone.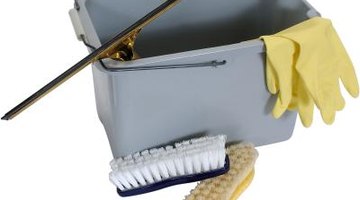 Step 1
Sweep the pavers with a stiff-bristled broom to remove dried stain material, dirt and debris.
Step 2
Wet the stained area of your Belgard pavers. Squirt three to five drops of dish detergent onto the stains.
Step 3
Scrub the stains with a scrub brush. Rinse the pavers with a hose to wash away the detergent and loosened stain material.
Step 4
Treat any remaining stain with a poultice to draw the stain out of the paver stones. Pour 1/4 cup of talcum powder into a bowl. Add enough denatured alcohol to make a thick paste.
Step 5
Smooth the paste over the entire stain. Allow it to sit until it dries, then scrub it off with hot water and detergent. Repeat as needed.
Step 6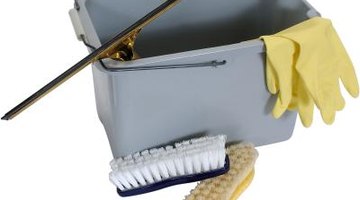 Moisten the scrub brush. Scrub the poultice paste into the paver to remove the last traces of stain matter.
Step 7
Rinse the Belgard pavers to remove the paste residue. Allow your pavers to air-dry.
References
Writer Bio
Mary Ylisela is a former teacher with a Bachelor of Arts in elementary education and mathematics. She has been a writer since 1996, specializing in business, fitness and education. Prior to teaching, Ylisela worked as a certified fitness instructor and a small-business owner.
Photo Credits
Zedcor Wholly Owned/PhotoObjects.net/Getty Images
Zedcor Wholly Owned/PhotoObjects.net/Getty Images
More Articles