How to Frame Around Duct Work With Metal Studs
To finish a basement with walls, you can install metal framing and attach the drywall. Installation of this framing is quick and simple. When installing the framing, you will have to cut it around the duct work from the furnace and central air systems. By cutting or creating simple bends to the metal studs, you can frame around the ducts with minimal waste of materials.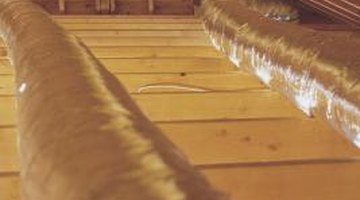 Step 1
Place the steel track across the floor according to your floor plans. Attach the track with #8 self-drilling screws with pan heads. Place the 1/8-inch bit into the screw gun to attach the screws.
Step 2
Place the studs into the metal tracking at an angle. Straighten them vertically and place the magnetized level against the studs until they are level. Fasten the studs 24 inches on center with the screws.
Step 3
Place the upper track along the studs until reaching the duct work. Create a 90-degree angle to the track by cutting the two edges of the track with aviation snips. Grab the track with the hand seamer and bend it 90 degrees down. Attach the stud to the 90-degree angle and to the bottom track.
Step 4
Cut the studs with the chop saw to frame under the duct work. Leave enough room to place upper tracking on the cut studs. Cut the upper tracking to the length of the duct as you frame around the bottom, whether it is a 6-inch round pipe or a 16-inch square pipe, with 2 inches extra at both ends.
Step 5
Bend the ends of the track at 90 degrees so it faces upward. Attach the cut track to the cut studs.
References
Tips
If the steel framing is already installed before the duct work, you can attach the ducts to the studs and track with duct hangers and 3/4-inch screws.
Writer Bio
Based in southwestern Pennsylvania, Michelle Hickman has written since 2006 on an array of topics including lifestyle, writing instruction and financial services. Her first articles appeared in "The Pittsburgh Tribune Review: Focus Magazine." She holds a certification in computer and information science from Central Westmoreland Career and Technology Center.
Photo Credits
Comstock/Comstock/Getty Images
More Articles