How to Install a Backdraft Damper
Backdraft dampers allow air to move through a duct system when the air conditioning unit or exhaust system is pushing air. When the mechanical equipment is off, the damper closes to eliminate air from flowing back through the duct.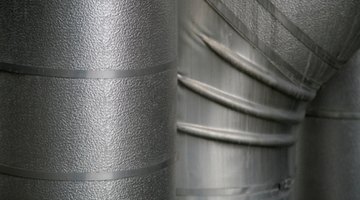 Pressure and gravity control the functions of a backdraft damper, no motor or electricity is required for the damper to operate. Installing a backdraft damper correctly ensure the blades will open and close correctly.
Mark the mounting location of the backdraft damper on the inside of the duct work with a tape measure and permanent marker. Make one mark on the two vertical sides of the duct.

Align one side of a torpedo level with one of the marks. Adjust the level until the air bubble sits in the center of the vertical bubble to show the level is plumb. Draw a line along the level with a permanent marker. Repeat the process to draw a line on the other side of the duct.

Slide the backdraft damper with the face of the damper blades facing with the airflow. Align the sides of the damper frame with the two level lines drawn inside the duct.

Run two No. 10 self-tapping screws through each side of the backdraft damper frame with a variable speed drill with 5/16-inch hex head adapter. Keep the screws on the side of the frame furthest from the mounted damper blades.

Cut the end of a caulk tube with the nozzle cutter of a drop-in caulk gun. Secure the caulk in the caulk gun.

Apply a bead of caulk to the seam between the backdraft damper frame and the ductwork. Allow the caulk to cure for 24 hours before putting the duct in use.
Things You Will Need
Tape measure
Permanent marker
Torpedo level
No. 10 self-tapping screws
Variable speed drill with 5/16-inch hex head adapter
Caulk
Drop-in caulk gun