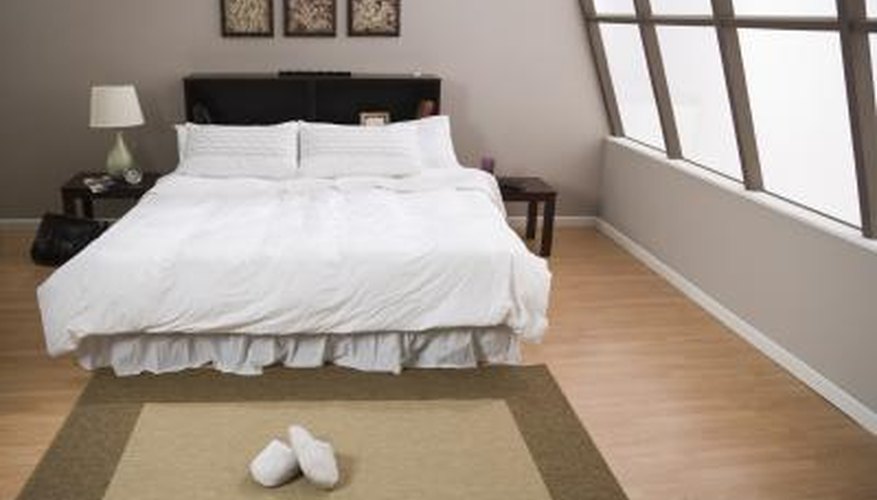 Not only does it give the bed a finished look, but it can effectively hide stored items or simply items that have slipped under the bed. No sewing skills are necessary to make a beautiful bed skirt; simply use glue and Velcro. This project can be accomplished in just a few hours; use fabric bought specifically for the bed skirt, or reuse old sheets that match your decor.
Step 1
Cut a piece of fabric wide enough to reach from the edge of the box spring to the floor. Add 3 inches before cutting. The length should be long enough to wrap around the bed entirely. You may need to cut several pieces to of fabric to obtain the length needed.
Step 2
Fold up 1/2 inch on one long end and both short ends of your pieces of fabric. Press the fold in place with an iron. Use the hot glue to hold the hem in place.
Step 3
Separate the two pieces of Velcro. Hot glue the back of the rough side of the Velcro around the top edge of the box spring. Allow the glue to dry. Glue the back of the soft side of the Velcro to the back of the unsewn edge of the fabric.
Step 4
Match the Velcro on the fabric with the Velcro on the box spring, pressing it firmly in place. Set the mattress on top, and make the bed as normal.
Things You Will Need

Fabric
Scissors
Hot glue
Velcro
Tips
If you need more than one length of fabric, glue the ends together to create one long piece. Do this before adding the Velcro.

If you prefer to sew the fabric, sew the hems in place instead of gluing them.