How to Identify Sullair Compressors
The Sullair company makes a line of air compressors that can be used for home or industrial use. The products that the company builds are designed with energy efficiency in mind and many use recycled or regenerated air to produce air that can used for purposes such as generating heat for drying. Sullair's products are unique in their appearance and easy to identify if you know what you are looking for.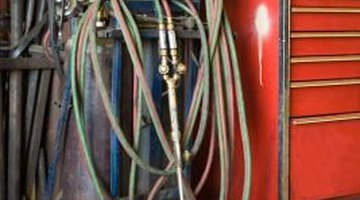 Step 1
Look for the unique, trademarked, muted green color that Sullair uses to paint its products. Every part of a Sullair product is usually painted this particular color, except for rounded air tanks, which are painted flat black.
Step 2
Look for the flat black framing that Sullair uses on its products. Every Sullair unit is painted with a flat black frame or border around all of its edges. Vents and handles are often painted with this color as well to stand out against the green color of the unit.
Step 3
Look for the "Synergy" label on the unit. The "S" on the label will be bigger than the other letters in the word and will be printed in a cursive-style font, while the other letters are printed using a more squared-off and italicized font.
Step 4
Locate the serial number on the unit and contact the Sullair company (see Resources) to verify that the product is actually one of Sullair's and not a counterfeit.