How to Use Black Beauty Fence Post Paint
All fence posts need some form of protection because they spend their lives sitting out in the elements. Gardner's Black Beauty fence post paint is a blend of asphalt, oil and rust inhibitors that protect wooden fence posts from rot and termites. The paint can also be used on metal fence posts to prevent rust from forming. You only need one coat if you're working on new surfaces. Buy 1 gallon of paint for every 80 square feet of surface area.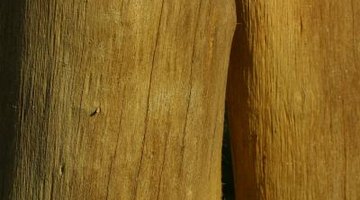 Step 1
Clean the fence post surfaces with 1 cup of trisodium phosphate mixed with 1 gallon water. Use a scrub brush to remove dirt and debris from the fence post, then hose off the residue. If the posts are new and clean, skip the TSP and simply hose off any surface dirt. Allow the posts to dry thoroughly before proceeding.
Step 2
Stir the paint with a wooden stir stick until evenly mixed.
Step 3
Dip a bristle paintbrush into the paint so the bristles are three-quarters covered and let the excess drip back into the bucket. Apply the paint to the surface until completely covered.
Step 4
Leave the paint to cure for 24 hours in areas of low humidity or up to 48 hours in high humidity. Apply a second coat. If the surface was new, you only need to apply one coat of Black Beauty.
References
Tips
Only paint when the weather is at least 60 degrees Fahrenheit and no rain is forecast. Don't use Black Beauty when temperatures exceed 100 degrees.
The paint can be used as an anti-corrosive coating over metal pipes, storage tanks and masonry surfaces.
Warnings
Black Beauty paint is for exterior use only, according to the website Gibson-Gardner, and not designed for plastic or synthetic fencing materials.
Writer Bio
Shara JJ Cooper graduated with a bachelor's degree in journalism in 2000, and has worked professionally ever since. She has a passion for community journalism, but likes to mix it up by writing for a variety of publications. Cooper is the owner/editor of the Boundary Sentinel, a web-based newspaper.
Photo Credits
Photos.com/Photos.com/Getty Images
More Articles