How to Fix a KitchenAid Mixer That Only Goes Fast
KitchenAid mixers are used in professional kitchens and homes around the world. KitchenAid has been manufacturing their signature stand mixers since 1919. KitchenAid mixers are known for their simplicity of design and lack of complicated controls. As a result, when there is a problem with your KitchenAid mixer, the potential causes are few. If your KitchenAid mixer refuses to operate on anything but high speed, you must perform a process of elimination to locate the cause, and correct it.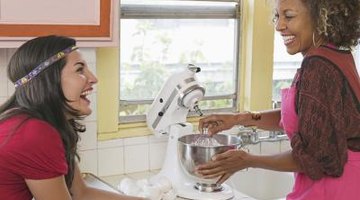 Step 1
Check the speed control lever. If the lever is set to a high speed, the machine will only go fast, unless the speed setting is adjusted. The speed control lever is located on the left side of your KitchenAid mixer when you are standing in front of it. Slide the lever all the way to the rear of the machine to slow, or stop the machine. If the machine remains on a high setting, even after the lever has been moved to the slow or off position, there may be a problem with the internal speed selection switch. Contact KitchenAid customer service at 800-541-6390
Step 2
Reset your KitchenAid mixer if it will only run fast. Switch the mixer off completely. Allow it to remain in the off position for a period of about 15 seconds. Turn the machine back on and test it. If the mixer still will not run at anything but a high setting, turn it off again and allow it to sit unused for a period of about 30 minutes. After this time, the mixer should be completely cooled. Turn it back on and test it again. If the mixer still is not working properly, contact KitchenAid customer service.
Step 3
Check the voltage level of the outlet which your KitchenAid mixer has been plugged into. KitchenAid mixers are built to work with 110 voltage. Some homes may have 220 voltage outlets for use with larger appliances like air conditioners or clothes dryers. If your KitchenAid mixer is plugged into a 220-voltage outlet, the increased power may cause it to act erratically, burn out, or not to work at all.
References
Resources
Writer Bio
Robert Morello has an extensive travel, marketing and business background. He graduated with a Bachelor of Arts from Columbia University in 2002 and has worked in travel as a guide, corporate senior marketing and product manager and travel consultant/expert. Morello is a professional writer and adjunct professor of travel and tourism.
Photo Credits
Jupiterimages/Brand X Pictures/Getty Images
More Articles