Farberware Pasta Machine Instructions
The Farberware automatic pasta machine FPM100 is no longer currently manufactured, but makes a wide variety of pastas if you can find it online. The Farberware pasta machine saves you the effort and most of the practice needed to make fresh pasta, doing the work automatically like a bread making machine makes bread. Pour the pasta ingredients into the machine, and mix until they're of a consistency consistent with pasta dough. Depending on which disk you choose, the finished pasta is extruded as one of ten freshly made shapes.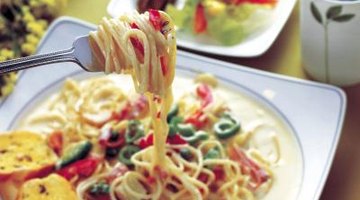 Step 01
Check to make sure the Farberware pasta maker is turned "Off." Remove the lid of the Farberware pasta maker. Measure 2 cups of bread, pasta or wheat flour into the FPM100. Add any herbs or seasonings you like to the flour. Close and secure the lid.
Step 11
Decide which type of pasta you will make. Select the pasta shaping die and place it in hot water with a few drops of oil for 1 minute. Remove the die from the water, and place the pasta die in its connecting ring. Screw the ring onto the front of the Farberware pasta maker.
Step 21
Pour 2 tablespoons of olive oil mixed with 2 tablespoons of water into the mixing bin of the Farberware pasta maker. Add an egg to make a richer pasta.
Step 31
Turn the pasta machine to "Mix." Allow the liquid and flour mixture to blend for 3 to 4 minutes. Turn the pasta switch to "Off." Wait for the motor to stop completely.
Step 41
Turn the Farberware pasta maker to the "Ext" setting for extrude and your pasta: fettuccini, spaghettini, spaghetti, tagliatelle, gnocchi, linguini, rigatoni, lasagnette, vermicelli or ziti is pushed through the pasta die. Cut the pasta in desired lengths as it extrudes using a kitchen knife.
Resources
Writer Bio
Martin Wynn began his career as a graphic designer focusing on trademark design in the late '80s. In his professional capacities he's been called upon to write the copy that accompanies the graphic designs. He became an expert in nutritional supplements and also developed expertise about computer hardware and software.
Photo Credits
Photos.com/Photos.com/Getty Images
More Articles