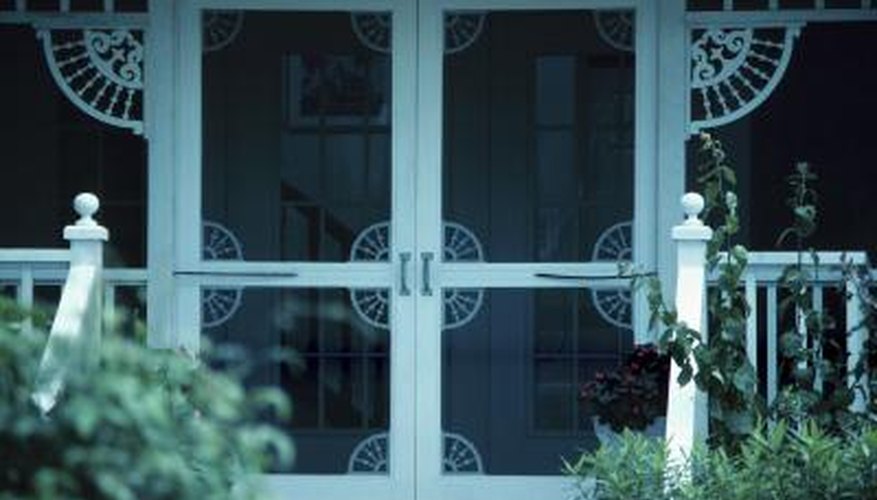 Use inexpensive screening materials or a variety of materials, such as stone veneer or tongue-and-groove boards, to enclose the deck in a visually pleasing way. By looking at many options, you can decide how much time and money you want to invest. Plan the project for the way your family really lives, so you will use the space often.
Step 1
Decide how enclosed space can enhance your living style. Plan to build a sleeping room for summertime guests, for example. Turn the deck enclosure into a screened room with tables for playing cards, as another option. Another option is to build onto the deck to create an extension of the kitchen for outdoor dining.
Step 2
Draw the house dimensions and deck space you will enclose. Sketch the enclosure shape you want to build on graph paper. Allow one square to represent 6 inches of real space. Figure out how to create the layout around doors and windows of the house. Review your sketches to make sure the enclosed room or porch harmonizes with the whole house design.
Step 3
Plan how you will build framework for the deck space. Buy 2-by-4-inch boards to construct a 9-by-12-foot screened room, for example. Figure out how to attach the enclosure's roof to the house roof if the addition is a large room or screened room. Bolting it to house framing will keep winds from lifting it from the deck. Use deck railing as part of the enclosure framework versus tearing it down, if you can.
Step 4
Add extra wooden support posts or concrete pilings under the deck. Don't add lots of weight without figuring out a way to reinforce the deck. Install concrete blocks as another choice for supporting a heavy addition to the deck.
Step 5
Use a variety of exterior materials. Over room framework, install ½-inch plywood on the exterior walls of a sleeping room enclosure, for example. Cover the top half of the room's exterior with cedar shakes and the bottom of exterior walls with exterior-grade paneling. Install screening on part or all of the room, as another choice. Staple the screening into place and leave a 2-inch border. Fold the screening under and nail on ½-inch wide wooden trim to cover the ragged edges.
Step 6
Change the floor area to make it more secure. Do away with floor board gaps by nailing ½-inch plywood on floor areas. Cover this with indoor-outdoor carpet. Use exterior-grade hardwood flooring if the room is entirely free of leaks and walls or windows are secured with no possibility of rain coming in.
Step 7
Create a rustic room inside the deck space. Keep the weight of the room down by using lightweight furniture and no heavy materials, such as stone or heavy wood cabinets, inside. Don't add tile to the flooring or too much wall or ceiling weight, so the deck will hold up well over time.
Things You Will Need

Sketch pad
Graph paper
2-by-4-inch framing boards
Wooden support posts
Concrete pilings
Concrete blocks
½-inch plywood
Cedar shakes
Exterior-grade paneling
Staple gun
Nails
½-inch-wide wood trim
Screening material
Indoor-outdoor carpet
Exterior hardwood flooring