How to Choose Retaining Wall Block Colors
Retaining block walls used around a patio will complement the house and other landscape elements such as trees and shrubs. Make the top flat to use as a bench and provide extra sitting space or use it to display special potted plants. Today, wall blocks come in many different colors so you can accent your surroundings. You no longer have to paint or hide the wall, now you can use the retaining wall as a vocal point in your landscape retreat.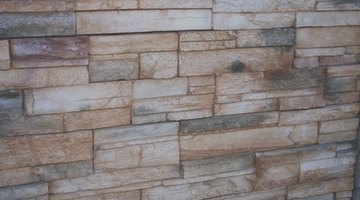 Take the time to research the different retaining wall block colors. A wide choice of colors are available that range from tan, brown and gray to red, blue, green and mauve. There are also blends and marble choices.

Go to the building supply store and get retaining wall block color samples. Place the sample in the landscape to get an idea of how the color looks. Don't rely on pictures to give you the true color.

Select the color that matches the materials and plants of the surrounding area. Consider the color of the house brick, the roof, the patio pavers and the pool deck when making a choice.

Blend the wall block colors or create a contrast. Matching the roof will offer one way to get a contrast to the house.

Make the wall block color match the architecture of your home. There is a color that matches and complements your home, whether it is modern or classic.
Tips
Tall potted plants enhances the wall block colors
Writer Bio
Addie Protivnak is at home in Coden, Ala., and has written internet how-to articles since 2008. Protivnak has published in the Master Gardener "Dirt" as well as the "Alabama Garden Pathways." She attended Faulkner State College where her course base was writing , literature and art.
Photo Credits
rock ,wall,stone image by Greg Pickens from Fotolia.com
More Articles