How To Repair a Greenlee 746
The Greenlee 746 hydraulic pump driver is used in conjunction with a hand or foot pump and punches to punch holes in metal. The hole sizes are varied by using different sized punches and dies. The pump driver unit weighs about 5 pounds and is composed of approximately 12 basic parts. Pump drivers require little maintenance other than keeping dirt and debris out of the driver. Hydraulic oil lubricates the inner parts. If the pump does break repair kits are available.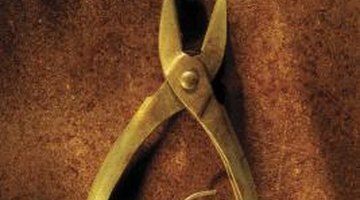 Step 1
Keep the pump driver free of debris so the internal parts operate efficiently and have less wear.
Step 2
Refer to the parts list and schematic and use the repair kit to disassemble the driver. The driver consists of a shaft, piston, cylinder, compression springs, retainer, plug with quick disconnect, and several o-rings and retainer rings.
Step 3
Inspect the parts for wear as you remove them. Place the parts in order to aid in re-assembly. When you see the part that is cracked or worn, consult the parts list to order the replacement part. Once you have the new part or parts re-assemble the driver according to the schematic in the kit, making sure all seals are tight and the new parts are lubricated.
References
Writer Bio
Jill Kokemuller has been writing since 2010, with work published in the "Daily Gate City." She spent six years working in a private boarding school, where her focus was English, algebra and geometry. Kokemuller is an authorized substitute teacher and holds a Bachelor of Arts in English from the University of Iowa.
Photo Credits
Comstock Images/Comstock/Getty Images
More Articles